Hi guys, Camy here!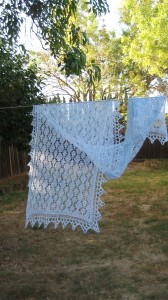 My mom taught me basic knitting when I was young, but then I forgot it all as an adult. I wanted to knit again, so I learned from online videos (so awesome! I can hit repeat over and over).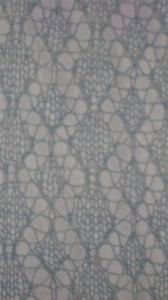 One thing that has fascinated me since I started knitting has been historical knitting patterns. One book I love is Victorian Lace Today by Jane Sowerby. There are tons of lacy shawl patterns to knit and they're all gorgeous. They range from easy to difficult.
I love knitting these patterns because they make me feel like a woman in those times, knitting delicate shawls for an evening by the fire or for a day out in London.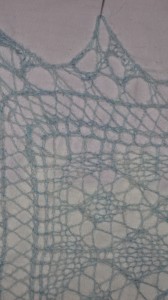 This shawl is called "Large Rectangle with Center Diamond Pattern" in the book. It's actually a combination of two knitting patterns:
"Close Diamond, Surrounded by Open Stitch" from The Lady's Assistant by Jane Gaugain, volume 1, edition published in 1847
And
"Vandyke Border" from My Knitting Book by Frances Lambert, first edition published in 1843.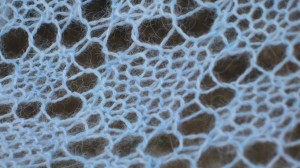 I've included links above to the digitized versions of these books, which you can download for free! The books themselves are fascinating, because the patterns and the items women could make represented the industrious needlework of women in the early 1800s. In addition to shawls, women could make mittens, caps, purses, stockings, ruffs, counterpanes, even garters!
For you crocheters, Jane Gaugin's book also includes crochet patterns, although they're not very detailed. The book also includes netting patterns.
The shawl I made looks like a complicated pattern, but it's actually very easy. The center portion repeats the same diamond motif over and over again, and the edging is knitted on, also in a repeating pattern that's easy to memorize.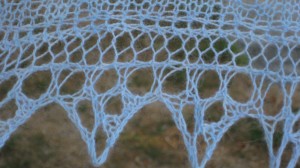 I used a lace weight yarn, which is a wool yarn that is very thin, almost like crochet cotton, but it's very light and lofty. I also used a pretty large needle size for the yarn, so the holes are larger and the lace pattern shows up better.
After knitting, I blocked it, which is basically just dampening it and then pinning it out on my bed to dry, stretching it a little so the lace pattern opens up. Once dry, it stays opened up.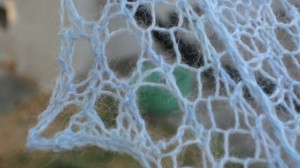 Can you imagine a young Victorian lady throwing this shawl about her shoulders as she heads out for a carriage ride at the park? Or perhaps tucking it about her bodice for modesty as she receives morning callers?
In Victorian Lace Today, Sowerby writes: "Not only did a shawl provide warmth, it was a modest cover-up for décolleté dresses. Mrs. Gaugain (the author of the first knitting pattern I linked to above) suggested that a shawl should be 'for throwing over the shoulders indoors, or for very young ladies wearing out-of-doors.'"
If any of you are knitters and you haven't tried lace knitting yet, I encourage you to try it! The first several patterns in this book are super easy, and you can feel you're a Victorian lady knitting a shawl for an evening out. 🙂 If you're on Ravelry, here's the link to my knitting notes.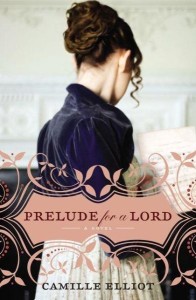 To celebrate the release of my first Regency romance in August, I'm busy knitting away so that I can offer some Victorian lace shawls in a few giveaways I've planned! I'll be giving away several gift baskets with shawls, a violin ornament, and some Jane Austen tea. 🙂 I hope you all will preorder Prelude for a Lord!
Originally posted 2014-06-05 05:00:51.