Hi, all!
When the topic of Christmas and other holidays in regency genre books came up, I merely opened the hutch of my escritoire (regency for desk) and pulled out four collections (see below)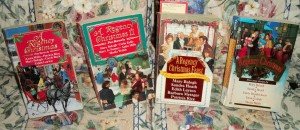 These are not CBA (inspirational) fiction, but rather ABA (general market, not inspirational, and probably a little racy).
I hope our inspy Regency genre grows to the point where collections like the above will be highly sought-after and we will have a chance to have a chance for our faith-filled novella  to be published in such a collection.
What do you like best about Christmas-set fiction?
Please give an answer in a comment.
Susan Karsten
Originally posted 2014-10-20 01:00:00.