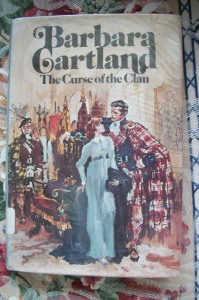 Dame Barbara Cartland wrote over 723 books.  Known for setting her novels in the Victorian era, she was an exceptionally popular novelist, peaking in the 1970s.  (I remember my mother reading her novels.)  After recently picking up two Cartland books at a used book sale, I was pleasantly surprised to find  The Curse of the Clan (published in 1977) to be quite satisfying.
Imagine my further delight that the novel is set in 1822.  Set in the late "Regency" to be sure, the tale follows an orphan who is elevated to the title of Scottish Duchess.  Her fearsome, yet handsome husband marries her to gain revenge upon a neighboring clan who foisted an adulterous, now-dead, wife upon him.
The story boomed along with vivid action and upon reflection, would make an excellent movie, if historical films were popular. The scenes at the orphanage, a carriage accident (which affected the plot), a shooting attack, revelation of her true parentage, then the winning over of the husband…all would make for a delightful, picturesque movie.
I got a real kick out of finally trying a Cartland book, and wouldn't hesitate to read more –especially if I can ferret out which were set in the early 1800s.
Have you read any of Barbara Cartland's books? What do you think?
Originally posted 2015-09-05 09:00:00.