Any Regency aficionado knows that many of our stories are set in the years 1811-1820 when George IV, Prince of Wales was made the Prince Regent. In the Regency Act of 1811 Parliament determined that King George III was unfit to rule. But what do we know of King George III, what is the legacy he left behind during the longest reign of a king up to that point in history?
Personally, he married Charlotte of Mechlenberg-Streltitz and bore fifteen children. It says much about the time that, though his popularity waned over his reign,England's populace was always proud of him for being faithful to his wife of 59 years!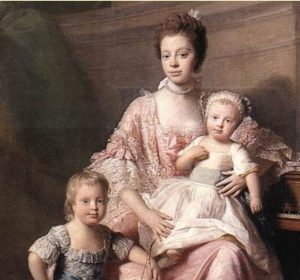 Side note: Queen Charlotte is noted to have African ancestry, from Margarita de Castro e Souza, a 15th-century Portuguese noblewoman part of the black branch of the Portuguese Royal House. English Royal painter captured her appearance without softening her features which was called mulatto in nature.
His two eldest sons, George IV (later Prince Regent) and William IV left him constantly faced with their excessive extravagance, dissolute lifestyles and profligate ways. Both of those sons eventually wore the crown, but died without surviving legitimate children.
That began the reign of Queen Victoria, the last monarch of the House of Hanover.
As king, war was the one constant of King George III's reign. He oversaw the defeat of France in the Seven Year's War, and was subsequently nicknamed "The King Who Lost America" from the constant battle with the Colonies' War of Independence. But with the defeat of France in the Napoleonic War,Britain emerged the world's leading power, though King George III was not in power when it ended.
In Parliament, bad choices in the men he kept around him, and detesting those he had no choice in appointing, made government stability rare and created a volatile atmosphere with his Prime Ministers and in the House of Commons.
But he was also the first British Monarch to study science, chemistry, physics, astronomy and mathematics. He learned French and Latin, geography, commerce, agriculture and constitutional law. And despite the loss of the Americas, there was great expansion of the empire and trade. The population almost doubled and there were great strides in agricultural methods and advances in technology. The tide of moral and religious improvement which began in the days of John Wesley, kept the popularity of a King whose religious education was wholly Anglican.
Unfortunately, he was far from well during the last twenty years of his life. He had three different bouts with mental illness, but in October 1810 he had a major mental breakdown; even to the point of being restrained in a straight jacked and tied into chairs. He was renamed "The Mad King" and he spent the last years of his life completely blind and deaf but lovingly cared for by his wife and doctors.
It is sad to think that the people finally saw him as an object of sympathy once George IV, was made the Prince Regent. Britain's people watched and compared him to his son as the Prince Regent squandered the already low coffers of England and kept the dissolute lifestyle his father had hated.
Originally posted 2012-11-26 10:00:00.