I smile as I type this post today, because it is with great fondness that I look back on some of my childhood memories.
When I was six or seven and we gathered around the table on Christmas Eve to eat lamb and fruitcake and Yorkshire pudding, I hardly realized one day I'd be writing books set near the Regency Period of British history. So there I was, a young child scrunching up my nose at the funny shaped golden blobs that didn't resemble pudding at all but were called pudding, grumbling that the lamb tasted funny, and complaining that thew fruitcake didn't look much like cake. But my English grandmother beamed throughout the entire meal, telling us how she used to eat these foods every Christmas when she was growing up.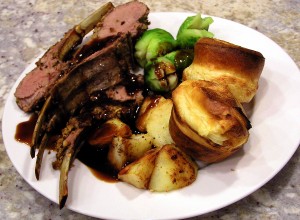 During Regency days, goose, venison and beef would have been the prevalent meat at Christmas feasts, not lamb. Yorkshire pudding was a common food for the lower classes, and wouldn't have been served in aristocratic households. But these food were around (along with other familiar Christmas foods like eggnog and gingerbread) and somehow they filtered across the Atlantic with my great grandparents and down through the years onto our dining room table when I was younger. The thought makes me want to whip up a batch of Yorkshire pudding and introduce it to my family this year.
So now I'm curious about you and your holiday traditions. Last week Kristi posted on Christmas carols that we still sing today, and Laurie Alice posted recipes for chocolate drops, confectionery drops, and white soup that many of us probably still enjoy come the holiday season.
What Regency traditions do you and your families take part in come Christmas time?
Originally posted 2012-12-10 10:00:26.