Kristi here.
Ask people to list traditional English meals, and you're very likely to get Shepherd's Pie in the list right next to Fish and Chips, Bangers and Mash, and Yorkshire pudding.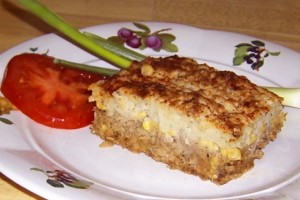 Shepherd's Pie is really a particular version of a Cottage Pie. Technically, a Shepherd's Pie should contain lamb or mutton while a Cottage Pie can contain the meat from pretty much any animal, though it usually contains beef.
Simply put, Cottage Pies are a mix of meat and vegetables topped with a heap of mashed potatoes and baked. My family has a recipe for one and lots of people make particular plans to have Cottage Pies for dinner and go to the grocery store to buy the ingredients to make it.
What I find interesting about that, is that Cottage Pie was originally a thrown together meal used to eat up the leftovers and scraps.
Picture this: The family sits down to eat and the Mom starts dishing up dinner. She says, "Sorry about dinner tonight. I had to sort of throw together whatever I can find. I'll plan better for tomorrow. I should be able to get to the market in the morning."
(Yes, I know that is a very modern conversation, but you get the picture.)
Dad and kids tuck in and discover that this is better than the last three meals Mom made. In fact, it's one of the best! Suddenly the concoction thrown together just so everyone could eat dinner and not be hungry is a family staple.
This happens in our house constantly.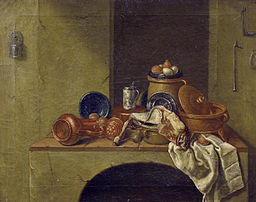 Frequently dinner is a pantry clean-out. Grab a few cans, haul something out of the freezer, throw it together and you have some nourishment. It might be bizarre, but it'll get the job done.
The other day I did this and ended up trying to remember what I'd done and what all I'd put in it because everyone in the family loved that meal. It is rare that all three of my kids clean their plate, let alone ask for seconds. We devoured this ultra simple meal.
The bonus was that it ended up tasting very similar to a dish my husband loved growing up as a child. His grandparents grew a very distinct type of bean on their farm and it was always served for the bulk of the Sunday afternoon meal.
Just like Cottage Pie, our thrown together meal is now a menu mainstay. It's purposefully planned and ingredients are bought instead of it being leftovers and forgotten pantry lingerers.
We call it "That turkey and bean dish" right now. Eventually it will get a better name. Want to try it? I've included the recipe below.
Have you ever thrown together something at the last minute only to have it be a roaring success?
That Turkey and Bean Dish
Ingredients:

– 1 pound turkey sausage (the kind in the big links, either the horseshoe shape or the two long links.)
– 1 can french cut green beans
– 1 can whole kernel corn
– 1 can black beans
– Spices: Cumin, onion powder, garlic powder, salt, pepper
– butter or margarine

Directions:

– Slice the turkey sausage into bite size pieces. (For me that means half-circles about a half inch thick)
– Brown them in a frying pan
– Sprinkle them with cumin and onion powder

– Drain the green beans and corn
– Drain and rinse the black beans
– Put them in a pot with some butter
– heat over medium heat, stirring occasionally
– Season with cumin, salt, pepper, onion powder, and garlic powder

– Once everything has had a chance to simmer and brown, dump the bean and corn mixture in the frying pan with the sausage.
– Cover and let simmer about 5 – 10 minutes, stirring occasionally.
– Serve over garlic bread or mashed potatoes
If you give this a try, let me know how it turns out for you. My family loves it!
All photos from WikiCommons.
Originally posted 2012-08-29 10:00:00.