Vanessa here,
The ladies of Regency Reflections have a lot to celebrate. Below are Awards, Upcoming Books, Current Releases, Contracted, Contest Wins, and Anything Else.
Awards
At The Romantic Time Conference, Reviewers Choice 2011 we celebrate these Inspirational Regency wins:
Category Series: Love Inspired Historical Reviewers Choice:
Genre: Series, Steeple Hill Love Inspired Historical, Current Series Imprints
2011 Steeple Hill Love Inspired Historical Award Winner
RT Rating
THE ARISTOCRAT'S LADY (4.5) by Mary Moore: Regency England: Nicole Beaumont has a secret she protects with every fiber of her being. She catches the eye of Lord Devlin, who thinks she's incredible — witty and charming, with a good head on her shoulders. But he also suspects that she's holding something back. When he discovers Nicole's secret, he is hurt she did not trust him with it. Can Nicole regain his trust, or did her last chance at love slip through her fingers? This story is so good and the heroine so compelling that even readers who don't normally like Regency-set stories will find it well worth their time.
Category: Inspirational Romance
THE GIRL IN THE GATEHOUSE
by Julie Klassen
2011 Inspirational Romance Award Winner
RT Rating
This book has scandal, mystery, secrets and a budding romance. The characters are written in such detail the reader will forget they are fictional! Klassen has outdone herself with this latest novel. Her writing is comparable to Jane Austen's. She writes with passion and readers will not be able to put this book down.
In 1813, Mariah Aubrey has been banished to a distant relative's estate after stirring up a scandal her family wanted to quietly bury. She is assigned to live in the gatehouse, which is on the very tip of the grounds, away from everyone and everything. She supports herself and her servant the only way she knows how: she writes novels in secret, under a false name.
Captain Matthew Bryant has leased the estate to show the woman he loves that he is worthy of her, despite the fact that her father believes Matthew is not high society enough for his daughter. When Matthew meets Mariah, he is intrigued by her but at the same time, he realizes he must keep his distance in order for his plans to come to fruition. When a mystery comes to light, Mariah and Matthew work together to discover the truth, and they start to have feelings for each other. Will the mystery be solved before the heir to the estate can put his evil plan into motion?
Reviewed By: Patsy Glans
Cheers Mary & Julie
Upcoming Books
A Flight of Fancy by Laurie Alice Eakes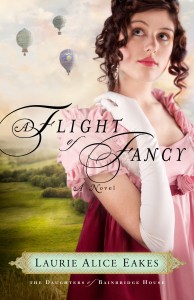 (October 2012)
Cassandra Bainbridge has twice set aside her scholarly pursuits–once for the London Season and once for her wedding preparations. Love seems a wonderful alternative to study, until disaster strikes. When an accident brings an end to her betrothal, she heads for the country to recover from both her injuries and her broken heart. There she pursues her love for ballooning and envisions a future for herself as a daring aeronaut. But when her former fiancé slips back into her life, what course will she choose?
This book is currently available for pre-order.
Current Releases
Heart's Safe Passage by Laurie Alice Eakes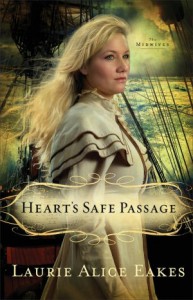 (February 2012)
It's 1813 and all Phoebe Lee wants out of life is to practice midwifery in Loudon County, Virginia. When Belinda, her pregnant sister-in-law, presses Phoebe to accompany her onto a British privateer in order to cross the Atlantic and save her husband from an English prison, Phoebe tries to refuse, then finds herself kidnapped.
Captain Rafe Docherty is a man in search of revenge. His ship is no place for women, but he needs Belinda in order to obtain information about the man who destroyed his family and his life. Between Belinda's whining and Phoebe's hostility, Rafe can't help but wonder if he made the right choice.
When it becomes apparent there is an enemy among them on the ship, the stakes are raised. Will they reach the English shore in time? Can love and forgiveness overcome vengeance?
Hometown Cinderella  by Ruth Axtell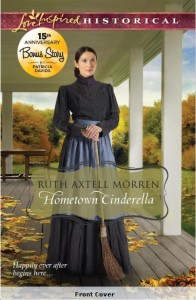 (February 2012)
It's not Regency but it's by Ruth Axtell so it's got to be good.
After years traveling in Europe with her musician husband, all that widow Mara Keller wants is security for her son. A half-share in her father's Maine farmhouse is the only refuge she has left, even if her resentful stepmother treats Mara as little more than a servant. But there is one bright spot: the unexpected kindness of neighbor Gideon Jakeman.
A widowed farmer with a teenage daughter, Gideon hardly pictures himself as anyone's Prince Charming. Especially a woman of Mara's refinement. Yet his quiet, rugged strength makes her feel as though she's found her rightful place by his side, if they can find faith enough to forge their own happy ending.
Sanctuary for a Lady – by Naomi Rawlings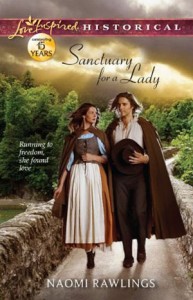 (April 2012)
It's almost Regency, and it's a great Debut Novel. Buy It. 🙂
Running to freedom, she found love . . .
The injured young woman that Michel Belanger finds in the woods is certainly an aristocrat, and in the midst of France's bloody revolution, sheltering nobility merits a trip to the guillotine. Yet despite the risk, Michel knows he must bring the wounded girl to his cottage to heal.
Attacked by soldiers and left for dead, Isabelle de La Rouchecauld has lost everything. A duke's daughter cannot hope for mercy in France, so escaping to England is her best chance of survival. The only thing more dangerous than staying would be falling in love with this gruff yet tender man of the land. Even if she sees, for the first time, how truly noble a heart can be . . .
Don't forget to enter the contest to win Naomi's book! Name will be drawn on Friday!
Contracted
Sarah Ladd signed a 3 book deal with Thomas Nelson for her debut series, Whispers on the Moors.  The first book, Heiress of Winterwood, will release next spring.  You go girl!!!!!!!!!
Vanessa Riley (moi) contracted Madeline's Protector with White Rose Publishing/ Pelican Books. It will release this next spring. Here's the blurb:
If all the young men of the world leapt off a cliff, Madeline St. James wouldn't care because the nightmares would end, and she'd cozy up to a Psalm in her aunt's sculpture garden. Yet, a chance meeting and a bullet wound changes everything, and Madeline must trust that the Good Shepherd has led her to the altar to marry a dashing stranger, Lord Devonshire. Can she forge a bond with the stubborn earl before the next disaster strikes?
Justain Delveaux, Lord Devonshire, vows to keep Madeline safe and in her place as a dutiful silent wife, but with her lips parted in prayer, his wife in-name-only and her faith are alluring. Maybe when he thwarts the danger, Justain can tempt the unpredictable miss with the comfort of his arms.
Contest Wins
Nothing to update here, but the year is still young.
Anything Else
Well, we really want to thank the readers of Regency Reflections. Thank you for your comments and suggestions, for sharing part of your day with us. We love it. Please keep coming back and help spread the Inspirational-Regency-Love.
Be Blessed.
Sources: Amazon.com, Romantic Times
Originally posted 2012-04-18 10:00:00.