Vanessa here,
Welcome to this 5th stop on the Wassailing Tour.  If you've missed some of the others, please don't hesitate visiting. Here are links to all of the Belles' holiday wassailing stops, with different Regency era Christmas carols, dinner selections, beverages including wassail recipes at every blog hop.
16 Dec: Caroline Warfield: The Sixth Course, Jerusalem Artichoke a la Crème
18 Dec: Sherry Ewing: The Seventh Course, Mince Pies
21 Dec: Mariana Gabrielle: The Eighth Course, Christmas Pudding
Bonus Question for Belles' Give Away: Which member of Lady Pendleton's family suggested they sing "I Saw Three Ships."

The Belles' Holiday Wassailing Tour: Course #5
Dec 14
Welcome to the 5th stop of the
Belles' Holiday Wassailing Tour!

14th of December, 1819 Port Elizabeth Colony, South Africa
Precious Jewell swatted her brow as she stirred the huge pot of wassail swinging upon the hearth. It smelled better than it looked with the flecks of cinnamon swimming in the murky brown liquid. Anything had to be better than the ginger beer Gareth brewed at the blacksmith's. The two were going to lug it here for tonight's dinner which would be serve to all of the Margeaux's crew.
Christmas in Charleston or London was cold, double shawl, stiff britches cold. This was so different. Most of the men Gareth captained were as new to this place as she. Would they like the spending the Yuletide here?
Stirring again, she shook her head. Men and beer. The crew would enjoy themselves.

Gareth's Ginger Beer (Martha Lloyd's Ginger Beer Recipe)
Two gallons of water,
two oz. Cream of Tartar. T
two lbs of lump sugar. T
two lemons sliced,
2 oz. of ginger bruised.
Pour the water boiling on the ingredients, then add two spoonfuls of good yeast; when cold bottle it in stone bottles, tie down the corks. It is fit to drink in 48 hours– a little more sugar is an improvement; glass bottles would not do.
Recipe from: Martha Lloyd's Household Book With thanks to the Jane Austen Society.
Precious's Wassail – Best Ever Hot Wassail Recipe
Recipe by: Jen Nikolaus
8 cups apple cider
2 cups orange juice
½ cup lemon juice
4 whole cinnamon sticks
12 whole cloves, or 1 teaspoon ground cloves
¼ teaspoon ground ginger
¼ teaspoon ground nutmeg
Combine all ingredients in a large pan. Bring to simmer over medium-low heat.  Reduce heat and continue simmering for 45 minutes.  Ladle into cups or mugs and enjoy!

With a final stir, Precious wiped her damp hands with her apron. Her gaze went to the window. The bright green grass and distant palm trees and no snow didn't quite look like Yuletide either.  Well, this is what Gareth wanted and truthfully, she do anything to help him. How could love be so much, so overwhelming, so covering and smoothing all the scarred places.
"Precious, how are things in here?"
Speak of the devil. Gareth, and that deep voice of his, dared to enter her kitchen again. The second time in twenty minutes. Weren't there some Xhosa to go chase, or something?
She turned to him, waving her big wooden spoon. "Things are as good as the last time you dragged in here. You're probably ready to spout some more nonsense about English vittles."
Folding his arms against his brilliant white shirt, he leaned against the door frame. "You sound a little perturbed, my dear. Are you sure nothing is amiss?"
"Nothing. Now go on." She waved her hand to shoe him like chickens, but that dumb old rooster came forward.
Close to her side, he flashed that pompous, wonderful heart-in-her throat grin. "You seem a little on edge."
Lowering her spoon, she released a sigh and turned back to her pot. "I know how to cook, you know. You've been eating well haven't you? Don't have to keep checking up on me."
He stood directly behind her now, and lightly fingered her neck and gave a rub to her sore shoulders. "You do many things well, my jewel. But this is an English meal, and my men are looking forward to it. It's a touch of home for them."
"Do you miss London, Gareth?" Her pulse stopped moving. She could hear every creak of floorboards of the sailors gathering in their parlor. If he missed London, maybe he didn't like it here, or maybe he had regrets.  She stiffened and edged away. Tossing the spoon into her apron pocket, she picked up her oven paddle and went to the fiery brick oven. Sticking it into the hot box, she stabbed at her loaf pan and removed it. "Is that why you keep checking, so you can tell me you want to return?"
He followed and took the paddle and set the steaming loaf on to the table. "You've done well with the English Bread. The men will enjoy it, and the rest of meal. Collards and whatever else you've created. You're food is always delicious."

English Bread
Recipe from The New London Family Cook; Or, Town and Country Housekeeper's Guide, by Duncan MacDonald
Put a bushel of good flour into one end of your trough, and make a hole in the middle. Take nine quarts of warm water by the bakers called liquor, and mix it with a quart of good yeast; put it to the flour, and stir it well with your hands till it is tough. Let it lie till it rises as high as it will, which will be in about an hour and twenty minutes. Watch it when it comes to its height, and do not let it fall. Then make up your dough with eight quarts more of warm liquor, and one pound of salt: work it up with your hands, and rover it with a course cloth or sack. Put your fire into the oven, and by the time it is heated, the dough will be ready. Make your loaves about five pounds each, sweep your oven clean out, put in your loaves, shut it up close, and two hours and a half will bake them. In summer time your liquor must be lukewarm; in winter, a little warmer, and in hard frosty weather as hot as you can bear your hand in it, but not hot enough to scald the yeast, for should that be the case, the whole batch will be spoiled. A larger or smaller quantity may be made in proportion to these rules.

Precious laid a thin cloth over the bread allowing it to cool, but not dry out. "You didn't answer my question."
A smile kissed his lips, and he hummed a tune. What was it?

While Shepherds Watched Their Flocks

Precious plodded back to hearth and started stirring again. The clove and cinnamon smell of the wassail wafted. It stung a little bit upon her weak eyes. And that poor her heart of hers had lodged right against a rib. It was probably the the only thing keeping it from falling out onto her freshly swept floor.
Gareth's big hand clasped hers, and he spun her to him. "I have Christmas everyday with you and Jonas, but my men don't. I just want to give them a special day."
It was Christmas everyday, being loved by the good captain in Port Elizabeth.

Don't miss the next stop.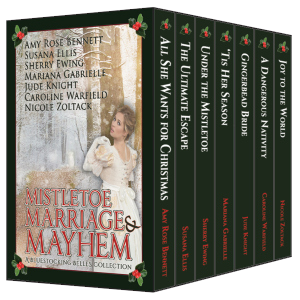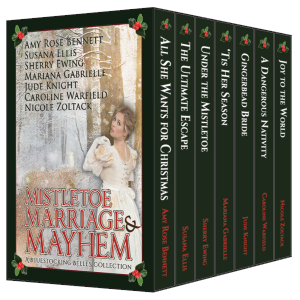 Mistletoe, Marriage, and Mayhem: A Bluestocking Belles Collection
In this collection of novellas, the Bluestocking Belles bring you seven runaway Regency brides resisting and romancing their holiday heroes under the mistletoe. Whether scampering away or dashing toward their destinies, avoiding a rogue or chasing after a scoundrel, these ladies and their gentlemen leave miles of mayhem behind them on the slippery road to a happy-ever-after.
***All proceeds benefit the Malala Fund.***
Amazon | Smashwords | Amazon UK | Amazon Australia | Amazon Canada | Barnes & Noble | iTunes | Kobo
Read more about Precious and Gareth in Season One of the Bargain. The first episode is free.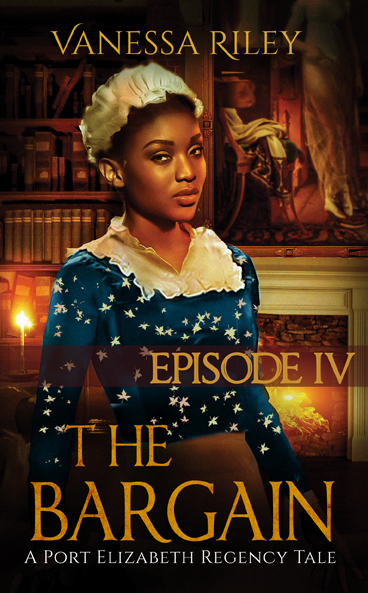 Originally posted 2015-12-14 06:32:46.