English Housewifery Exemplified
In above Four Hundred and Fifty Receipts Giving Directions
for most Parts of Cookery
Elizabeth Moxon
published in 1764.
This cookbook precedes the regency by about 50 years,but I imagine many of these recipes (or "receipts" as they were called then) were still in use.
Scrolling through this cookbook on Project Gutenberg's site, I found some interesting dishes including:
 HOW TO JUGG PIGEONS.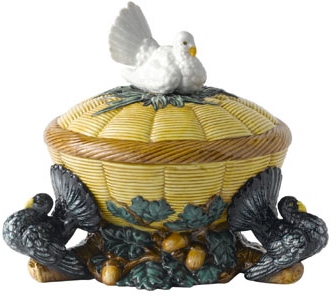 I wasn't sure what 'jugging' meant. The dictionary has the verb, to jug, meaning stewing meat in an earthenware jug.
Take six or eight pigeons and truss them, season them with nutmeg, pepper and salt.
To make the Stuffing. Take the livers and shred them with beef-suet, bread-crumbs, parsley, sweet-marjoram, and two eggs, mix all together, then stuff your pigeons sowing (sic) them up at both ends, and put them into your jugg with the breast downwards, with half a pound of butter; stop up the jugg close with a cloth that no steam can get out, then set them in a pot of water to boil; they will take above two hours stewing; mind you keep your pot full of water, and boiling all the time; when they are enough clear from them the gravy, and take the fat clean off; put to your gravy a spoonful of cream, a little lemon-peel, an anchovy shred, a few mushrooms, and a little white wine, thicken it with a little flour and butter, then dish up your pigeons, and pour over them the sauce. Garnish the dish with mushrooms and slices of lemon.

This is proper for a side dish.
How's this for a little deception, making a rabbit look like a partridge? The only thing is, I have no idea what they mean by cutting off a rabbit's wings (cutting off its floppy ears?):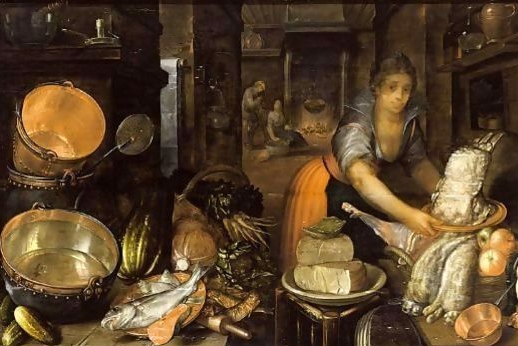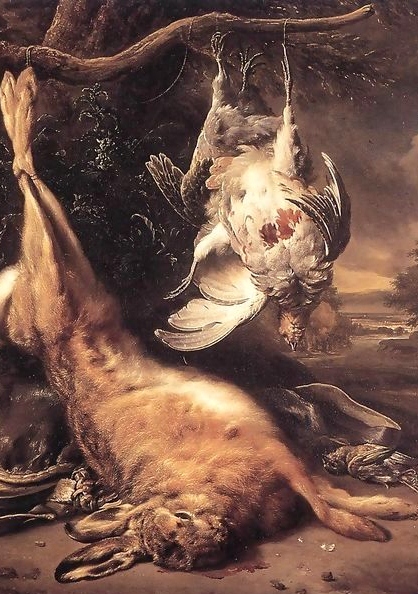 TO DRESS RABBETS TO LOOK LIKE MOOR-GAME.

Take a young rabbet, when it is cased cut off the wings and the head; leave the neck of your rabbet as long as you can; when you case it you must leave on the feet, pull off the skin, leave on the claws, so double your rabbet and skewer it like a fowl; put a skewer at the bottom through the legs and neck, and tie it with a string, it will prevent its flying open; when you dish it up make the same sauce as you would do for partridges.

Three are enough for one dish.
And for a little dessert:
AN APPLE PUDDING

Take half a dozen large codlins, or pippens, roast them and take out the pulp; take eight eggs, (leave out six of the whites) half a pound of fine powder sugar, beat your eggs and sugar well together, and put to them the pulp of your apples, half a pound of clarified butter, a little lemon-peel shred fine, a handful of bread crumbs or bisket (sic), four ounces of candid orange or citron, and bake it with a thin paste under it.

The recipe ends there. Perhaps a thin paste is a pastry shell?
 It would have been interesting to sample some of this fare.
Originally posted 2012-08-20 10:00:00.