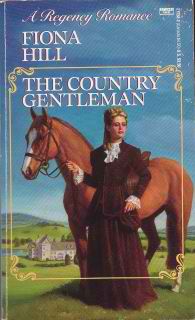 Ann Guilfoyleis a wealthy and independent young woman in Regency England, with her life planned before her. She opens her drawing room to what she considers the creme de la creme of thinking people and she intends to marry the exact right man. Then financial tragedy strikes and she finds herself 200 miles from London trying to settle herself into country life, a fate worse than death for a woman who considers herself sophisticated and intellectual. She thinks she can only mock thegentleman farmer Mr. Highet and his "gargantuan" mother. In short, Ann is a snob who thinks this country gentleman beneath her, yet when a different tragedy strikes, this one of the heart, she accepts his offer of help and her attitudes and heart begin to change.
This is not a story full of suspenseful, page-turning moments. The pace is almost as leisurely as the country life about which Hill writes. Yet the way in which Ann grows as a woman is so heart-warming, along with the love story, I have always listed this book among of my top fifty Regencies and worth the reread from time to time.
You will likely only find this sbook in llibraries or used bookstores. I've seen it for as little as $.01, which is a pity, and it is a quarter of a century old, definitely among the clean, sweet traditional Regencies of old, with an author who is a master character-driven storyteller.
Originally posted 2015-11-15 17:30:05.