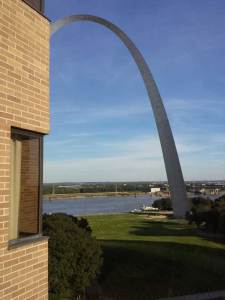 Kristi here. I had the great pleasure of attending the ACFW (American Christian Fiction Writers) conference in St. Louis this weekend.
This was the view from my hotel window. Pretty cool.
Unfortunately, despite being spitting distance from the arch, I never actually made it over there. Oh well. It's still pretty.
Meeting Some Familiar People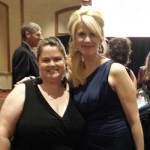 One of the best thing about conference is meeting up with people you normally only "see" in cyberspace.
If you've been reading this blog long, you know "friend of the blog" Kristy Cameron. Something you might not have known is… the girl is tall. But I love that hair. That's how I found her from across the room of 600 people.
I also ran into some of our favorite Regency authors.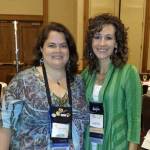 Sarah Ladd was a finalist for the Carol in the debut novel category with her Regency The Heiress of Winterwood. 
The category was won by a contemporary book with Regency ties, Katherine Reay's Dear Mr. Knightley, in which a young lady channels Jane Austen's characters to help her get through life. (Amazing book, I highly recommend it.)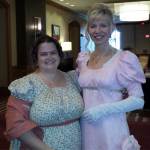 I also met up with Julie Klassen, looking amazing in her pink Regency ball gown. Julie was honored with the Mentor of the Year award at the gala.
As you can see, she's another blonde that towers over me. If you ever have the honor of meeting her, think of something more witty to say than, "Wow, you're tall." I already took that one.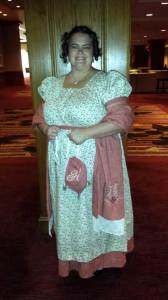 Yes, I am also dressed in Regency era garb. My amazing and wonderful mother made me a dress for the genre dinner (where we got to dress up in time periods and characters). Now I'll also have it for things like book signings or other events.
She even made me a matching shawl and reticule.
Mothers are awesome.
Upcoming Book News
Other than Sarah and Julie I didn't see any of our other Regency authors this weekend. Julie has a new release in December, so keep watching for that.
I know many of our readers are expanding into the Edwardian era, in part because of Downton Abbey. This is a growing area in Christian fiction, so if that interests you be sure to check that out. I know I saw some titles set in Edwardian England from Carrie Turansky and heard of a series by Roseanna White coming out next year.
My Own Happy News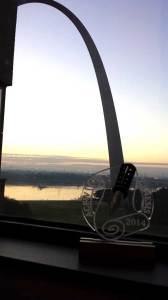 I also brought home my own special souvenir. Here is the Genesis award I was blessed to win with the beautiful arch as a background.
In case you've missed me making the announcement elsewhere, I'm happy to say you can pick up this award winning story for yourself next Fall when it comes out from Bethany House.
All in all it was a pretty amazing weekend. Were you an author able to go to the conference? Got a question about the weekend that I might could answer? Leave it in the comments.
Originally posted 2014-09-29 01:00:00.