I really enjoyed Laurie Alice's post on flowers in regency England in springtime. It dovetails well with the post I've been thinking about, which is on the meanings and legends of common flowers during both the regency and Victorian eras in Britain.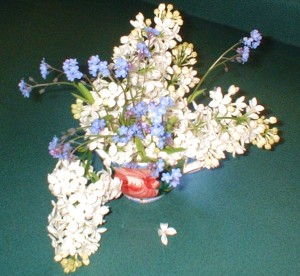 The forget-me-not, a common flower in regency gardens was called by Coleridge "blue and bright-eyed flower of the brook." It's official name "myosotis" actually means the not-so-romantic "mouse ear," so named because of the shape of its leaves.
A German legend has it that a knight fell into a swift stream while picking the forget-me-not for his lady. He had only time to toss it to her and cry, "Forget-me-not!" before he was swept away. British king Henry IV chose it as one of his emblems, and it was often embroidered on the king's robes.
It was not until the regency that it became a garden flower.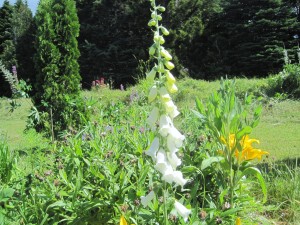 Ever wonder why foxgloves are called by that name? Digitalis, the official name, is not nearly as descriptive. The old English name of foxes-glofa means foxes' gloves. The fable is that foxes were hunted for their tails, which were considered amulets against the snares of the devil. In order to hang onto their furry brushes, they appealed to the gods for help, who gave them bells to hide in the fields. The bells would sound a warning when hunters were about and become silent when the coast was clear.
All that ducking and dodging the hunters had given the foxes rough paws, so that when they went hunting in the chicken coops, the chickens would squawk when seized by them. This time the fairies gave the foxes gloves to cover their paws with, and these became known as fox gloves.
Digitalis, which the leaves yield, is a recognized heart stimulant, which was used by American Indians before it became known in Europe. It is also a poison, so it was only used externally by Europeans until the 18th century. It then began to be used in the treatment of fevers, insanity and heart disease.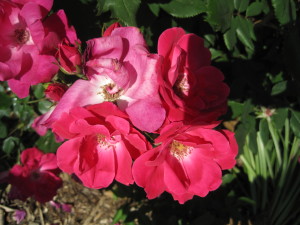 Roses cultivated in Europe before 1800 are usually referred to as "old roses." Not until 1792 when a rose from China was introduced into Europe did any of them bloom more than once a year. (The only occasional exception was the Damascus). Rose water was used for cooking. Vanilla supplanted it as a flavoring extract in the 17th century. Rose oil, rose water and rose petals continued in British pharmacopoeias but more and more for use in cosmetics. Attar of roses, the essential oil, took 60,000 roses to make one ounce!
One of the earlier spring flowers, the pansy, goes by many names including "Kiss-Me-Quick" and "Johnny-Jump-Up." The word pansy is derived from the French penser, to think, which is why Ophelia said "Pansies, that's for thoughts." Legend had it that to pick one with the dew upon it would cause the death of a loved one. If picked on a fair day, it would rain before night. Pansy juice squeezed on the lids of a sleeper would cause her to fall in love with the first person she saw on awaking, as Titania discovered in "A Midsummer Night's Dream."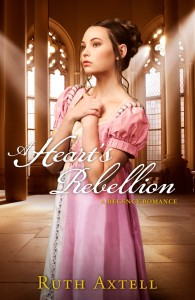 The hero of my upcoming regency, A Heart's Rebellion, is an amateur botanist, so he will usually refer to a flower by its official name. The system of classifying plants into genus and species was still a new science in the regency era. The heroine's name, Jessamine, is a form of jasmine, which the hero is fond of calling by its official name, Gelsemium sempervirens.

Bibliography: Flower Fables by Geraldine E. Nicholson, Mid-America Publishing Corp., Kansas City, Missouri
Originally posted 2015-12-13 18:13:45.