Kristi here and I am very excited to announce that today and tomorrow only (May 15 and 16, 2012), you can get a FREE Inspirational Regency novel!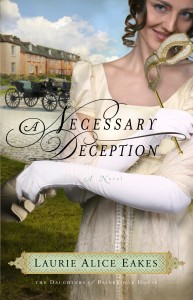 That's right, you can own "A Necessary Deception" by our very own Laurie Alice Eakes for free! It's available as a free eBook on Kindle and Nook. Don't own a Kindle or Nook? You can get the Kindle app for your PC or smartphone for free! (I just love all this free stuff, don't you?)
So CLICK HERE to go to Amazon and get your free book. It's perfect for getting you ready for the next book in the series coming out in October.
CLICK HERE if you want the Nook version.
If you have friends that you want to introduce to the fabulous world of Regency England, this is a great way to do it! Who doesn't love a free book?
Have you already read "A Necessary Deception"? Get in the comments below and tell everyone how great it is so they'll go get their own copy. Gotta go now… I'm off to snuggle on my couch and read!
Originally posted 2012-05-15 07:00:00.