The Regency Spy. He is such a popular figure in fiction that it can be difficult to know where the story ends and the truth begins.
Accounts of actual spies are vague and difficult to find. Not surprising, as they were spies. Undercover work wasn't exactly respected at the time and was usually done by people acting as double agents: mistresses, traveling poets, scholars, diplomats, etc.
By most accounts, the French were a little better at it than the English, though it's possible the English were simply a bit better at keeping their activities secret.
In my recent book, A Noble Masquerade, a Napoleonic spy had infiltrated England and our heroic English spy has to stop him. The spies in A Noble Masquerade are considerably more organized than the real Regency spies were, all being connected by a centralized War Office.
There was no organized spy office in England at the time, particularly not a government recognized one. Instead of having a centralized organization, if someone such as the prime minister, foreign minister, or even General Wellington needed information, they built their own slipshod network. Most spy work at the time was actually happening in France, which is where the spy in A Noble Masquerade got his start.
A Noble Masquerade is now available in eBook, paperback, and audio book formats. Find out more at Kristi's website.
More about A Noble Masquerade by Kristi Ann Hunter: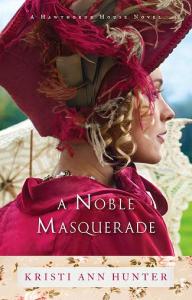 Lady Miranda Hawthorne acts every inch the lady, but inside she longs to be bold and carefree. Entering her fourth Season and approaching spinsterhood in the eyes of society, she pours her innermost feelings out not in a diary but in letters to her brother's old school friend, a duke–with no intention of ever sending these private thoughts to a man she's heard stories about but never met. Meanwhile, she also finds herself intrigued by Marlow, her brother's new valet, and although she may wish to break free of the strictures that bind her, falling in love with a servant is more of a rebellion than she planned.
When Marlow accidentally discovers and mails one of the letters to her unwitting confidant, Miranda is beyond mortified. And even more shocked when the duke returns her note with one of his own that initiates a courtship-by-mail. Insecurity about her lack of suitors shifts into confusion at her growing feelings for two men–one she's never met but whose words deeply resonate with her heart, and one she has come to depend on but whose behavior is more and more suspicious. When it becomes apparent state secrets are at risk and Marlow is right in the thick of the conflict, one thing is certain: Miranda's heart is far from all that's at risk for the Hawthornes and those they love.
Originally posted 2015-09-14 02:09:59.