Vanessa here,
I am so excited to announce a few things. For "The Bargain" fans, the season finale is on its way. My editor is having one more look at it to make sure it sparkles when it shows up on your Kindle. It will also be available in Paperback, too. Today, I must share with you the cover for my next serial novel that will release in January 2016.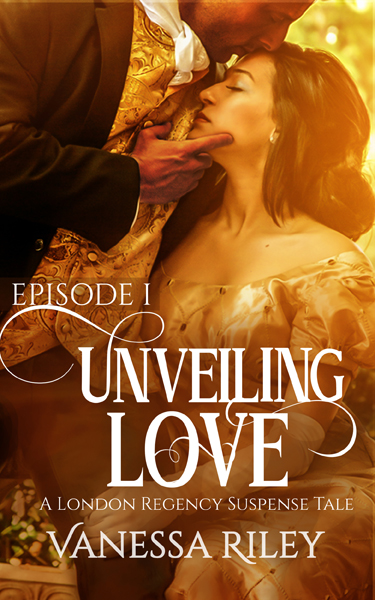 Unveiling Love:
Winning in the courts, vanquishing England's foes on the battlefield, Bradley Norton has used these winner-take-all rules to script his life, but is London's most distinguished mulatto barrister prepared to win the ultimate fight, restoring his wife's love?
Amora Norton is running out of time. The shadows in her mind, which threaten her sanity and alienate Bradley's love, have returned. How many others will die if she can't piece together her shattered memories? Can she trust that Bradley's new found care is about saving their marriage rather than winning the trial of the century?
It's available on Pre-Order now at Amazon:
This story of Bradley and Amora's is very dear. Parts of their tale made me weep. I hope it lives up to my heroes like Jo Beverly, Beverly Jenkins, and Laurie Alice Eakes who weave suspense into their sweeping romances.
What is a serial novel?
Unveiling Love is a serialized story or soap opera told in episodes. Each episode averages three to eight chapters, about 15,000 to 30,000 words. Each episode resolves one issue. Emotional cliffhangers may be offered, but the plot, the action of the episode, will be complete in resolving the main issue.
My promise to you is that the action will be compelling, and I will tell you in the forward the length of the episode.
Originally posted 2015-11-04 14:17:30.