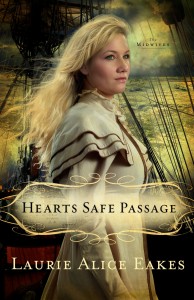 I recently had the privilege of reading Heart's Safe Passage by one of our fellow bloggers here at Regency Reflections, Laurie Alice Eakes.
Here's a little description of the novel:
It's 1813 and all Phoebe Lee wants out of life is to practice midwifery in Loudon County, Virginia. When Belinda, her pregnant sister-in-law, presses Phoebe to accompany her onto a British privateer in order to cross the Atlantic and save her husband from an English prison, Phoebe tries to refuse, then finds herself kidnapped.
Captain Rafe Docherty is a man in search of revenge. His ship is no place for women, but he needs Belinda in order to obtain information about the man who destroyed his family and his life. Between Belinda's whining and Phoebe's hostility, Rafe can't help but wonder if he made the right choice.
When it becomes apparent there is an enemy among them on the ship, the stakes are raised. Will they reach the English shore in time? Can love and forgiveness overcome vengeance?
It seems like every time I've turned around over the past year, I've been hearing bits and pieces about this book. Before reading it, I knew several things: the hero was a bad boy on a dangerous mission, the heroine was a headstrong midwife, and they went to sea.
Well, the story proved to be much more than a bad boy meets a good girl and they live happily ever after. "Sweeping" is the best word I can think of to describe it. It starts off in Virginia, where the heroine heads to sea against her will and due to the scheming of a cruel sister-in-law. From Virginia, Phoebe's whisked away to Bermuda, then England, and even France. Despite the wide scope of geography covered in the novel, Eakes does a masterful job creating mood and setting. I felt like I was personally visiting every country she described and living through the War of 1812. Eakes understanding of the American, British, and Scottish mindsets is nothing short of amazing.
Furthermore, the characters of Rafe and Phoebe are richly drawn. Neither is perfect, both make mistakes, and both struggle along the path to forgiveness and redemption. They have so much to overcome both physically and emotionally, that at times I wondered if they would ever make it. But they DID make it, and it's a wonderful story readers won't soon forget.
So while the book doesn't qualify as a Regency in the strict sense, Regency fans will likely enjoy this wide-range historical novel. I recommend picking up a copy soon.
Originally posted 2012-03-14 10:00:00.