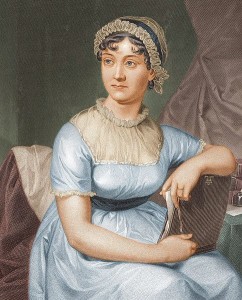 I recently read an older biography of Jane Austen entitled Presenting Miss Jane Austen. It was written by May Lamberton Becker and published in 1952. It was well-researched and endorsed by the Jane Austen Society.
What intrigued me the most, however, was a short section in Chapter Thirteen about one of the summer journeys Jane and her sister Cassandra took while they were living in Bath. One of the things Jane most looked forward to living in Bath was spending summers at the seashore. This was a new vacation destination for regency society, who had up to then been accustomed to going to the watering holes of Bath and Tunbridge Wells. But with the Prince Regent preferring to spend his time at the seashore in Brighton (which grew up around the original settlement of Brighthelmstone), the Brits took to the sea.
Jane writes about this new mobilization in a satirical way in one of her unfinished novels Sanditon, in which a resort town is being constructed around a traditional fishing village. You can see her humor in the town's name which sounds suspiciously like "Sand Town."
It was on one of these summer jaunts that Jane and her sister met a young clergyman at one of their stops. Perhaps it was in Devonshire, the author speculates. This clergyman was visiting his brother, a doctor. Her sister Cassandra is quoted in one of her letters as saying he was "one of the most charming persons she had ever known." When they continued their journey, this gentleman asked permission to join them farther ahead in another town. According to the author, permission was given, which in these more formal times, meant a tacit agreement of a serious intention. When the sisters arrived at the town, Jane received a letter announcing his death.
Fast forward to more recent times when a literary biographer, Dr. Andrew Norman, has written a book called Jane Austen: An Unrequited Love (2009). He claims the identity of this mysterious gentleman is the clergyman Dr. Samuel Blackall, the brother of Dr. John Blackall, a physician. It seems Jane met him years earlier in 1798, when the two were guests of mutual friends, the Lefroys (one of whom, Tom Lefroy, is depicted as Jane Austen's love in the movie In Becoming Jane).
Four years later they seem to have met again on the southern coast of England in the town of Totnes in Devon. Norman says she was visiting this town with her parents and met and fell in love with a clergyman who was visiting his physician brother who worked there.
Until then no one knew the name of this mysterious clergyman. But Norman searched the town records until uncovering the name of one physician, a Dr. John Blackall. He put two and two together and concluded that this is the same family Jane had met earlier at the Lefroys.
Very few of Jane's letters survive from the years directly after this meeting, between 1801-1804.  Norman says that Blackall did not die but married someone else in 1813.
So, who knows what really happened. I prefer the first biographer's conclusion, that Jane and this young clergyman did meet and fall in love and then he died prematurely. Jane loved him to her dying day, and her feelings are reflected in that famous quote from her novel Persuasion in which she debates who loves longest, men or women: "All the privilege I claim for my own sex (it is not a very enviable one, you need not covet it) is that of loving longest, when existence or when hope is gone."
What do you think?
Originally posted 2013-07-08 10:00:00.