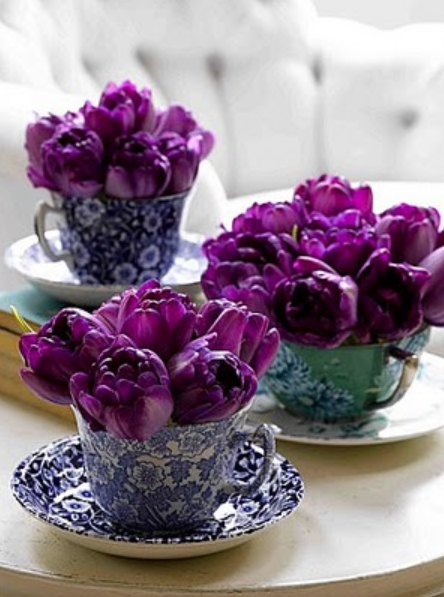 Entering my ninth month of pregnancy has had me thinking on the Regency pastimes spent largely indoors – especially those that do not require much by way of physical activity on the part of a typically exhausted, soon-to-be mother of three.
My current pastimes don't venture far beyond the nearest comfortable chair and as such, stay in the realm of reading, writing novels, blogging and time spent on the occasional bout of Facebook posting. This is why a cozy living room or den (aka, a twenty-first century parlor) is such a grand place to kick-back with a cup of hot tea and a delightful Regency Era book. It's during these relaxing times that a tea-tray and small vase of cheery flowers are particularly welcome companions!
Care for tea and tulips, perhaps?
Though the Regency Era would have seen a servant delivering a tray for tea time, it wouldn't have been quite as easy as simply warming a mug of water in the microwave and dropping in a tea bag like we do today. For Regency Era tea times, there was much more to consider:
–   Cost – The practice of drinking tea had been popular in England for well over a century before the Regency Era, but that did not mean that tea was altogether inexpensive.   By the late 1700s, both Thomas and Richard Twining had a great impact on the practice of tea drinking, making it more popular with the opening of a tea shop in 1717 and in the effective lobbying of the government to reduce the high import tax on tea in 1784, which made it somewhat more affordable to the masses (namely, the middle class).  The cost remained steady however, due largely to the British East India Trading Company's monopoly on tea imports up until 1834.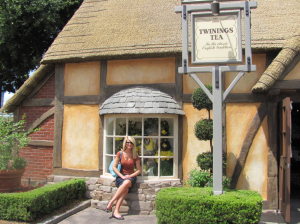 –  Time of Day/Menu – The definition of "tea time" varied according to the time of day and type of menu items that accompanied the tea itself.  Usually served between the hours of 5 and 7pm, the High Tea (also known as the "meat tea") was identified with the early evening meal. It would have been accompanied by a more substantial hot dish such as shepherd's pie, baked fish or fish and chips, or other savory dish with baked or broiled root vegetables. While Afternoon Tea (or, "low tea") did not become the fashion until the early 1840s, it's still worth mentioning in comparison as the foundation for this tea time was laid during the preceding years.
As a lighter version of the traditional High Tea, the Afternoon Tea would have been served to carry one through to the High Tea or later (and more formal) dinner. It would have been accompanied by lighter fare – a snack of finger foods such as seasonal fruit, scones, crumpets, tea sandwiches (cucumber or smoked salmon, for example), biscuits and an assortment of honey, butters, jams, and lemon curds or custard spreads.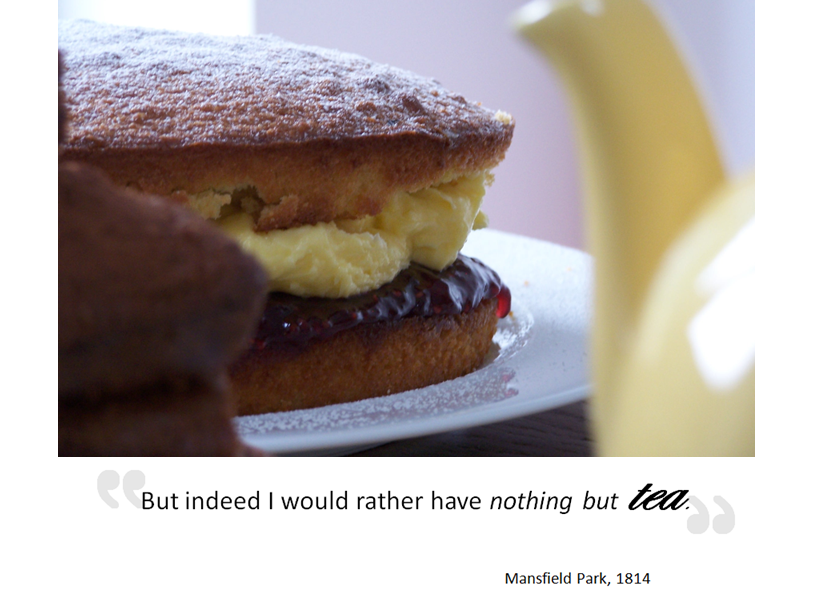 –  Etiquette – Distinctions between High and Low Tea are commonly referenced to the height of the table used for tea service (though this is not the only distinction noted from multiple sources).  Light Afternoon Tea would have been served outdoors in hospitable weather, either in a garden or at picnic. Indoor tea times would have been served in a less formal setting such as a parlor, study, or salon, and on the low coffee tables often found in these rooms.
– Tea Tidbits – It's interesting to note that "taking tea" was actually a rather ill-mannered expression at the time. One would have opted for referring to High Tea time rather than the more uncultured phrase. Here's another tidbit just to make you smile… Though our post is titled to Tea and Tulips, we're of course referring to the lovely blooms that appear in our window boxes each spring. But in the Regency Era, the word Tulip actually referred to a "fine fellow who dressed quite well".
There are numerous resources you can turn to for a complete history of tea, though here are a couple of fun links to get you started: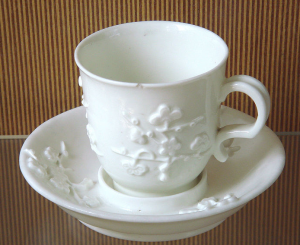 Tea at the Regency Tea Room, The Jane Austen Centre at Bath
Tea with Bea, Bea's of Bloomsbury (Tea Room and Treats)
The Foodie Gift Hunter, UK (Making Time for Tea)
Twinings Tea, a Twinings History
DIY Tea Wreath (Kojo Designs Craft Project)
With all the tea talk we've had, I'm feeling more relaxed than ever. Between the writing and blogging, tea time that is High or Low, and the service in our parlors or salons, I'm ready for a honey-sweetened cup of Twinings best on my own tea-tray. So what's my Tea and Tulips moment? It's in the smiles of my children and the care bestowed by my husband that has this soon-to-be mom of three rejoicing. After all, no matter what flavor of tea or time of day, God's blessings are always on the menu.
What tea flavors your day?
Share your favorite Tea and Tulips moment with us below…
In His Love ~
Kristy
Originally posted 2012-10-22 10:00:00.