Laurie Allice Eakes (LA) invites you into an Interview with Cheryl Bolen (CB), author of Marriage of Inconvenience from Love Inspired Historical.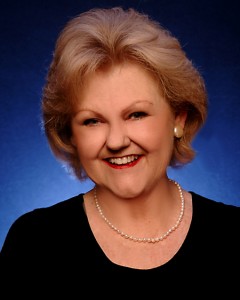 Cheryl Bolen, author of Marriage of Inconvenience
LA: What drew you to write about the Regency Time Period?
CB: My World War II book—the fourth complete book I'd written but not found a publishing home for—won a lot of contests, but publishers kept saying it didn't fit into a genre. The final editor judge in one contest told me if I wrote a historical romance that took place before 1900 she would like to look at it. The only period I liked was the Regency England Georgette Heyer had introduced me to. I hadn't read many of the contemporary writers of Regency because I found some of them not understanding the era as well as I thought I did. That's when I had a light bulb moment. I can write that! I began A DUKE DECEIVED, and months later that senior editor at Harlequin Historical bought it.
LA: Tell us what year your book is set in and why you chose that particular time.
CB: My newest release is set sometime after Waterloo but before 1820. I actually picked that time because it was a continuation of a series that began earlier and which locked me into a particular time. (The first books in the series, however, were written for a secular publisher, but readers had been clamoring for me to tell this proper miss's tale.)
LA: What's your favorite, unique Regency aspect of the novel, something you wouldn't be able to include in a novel set in another place or time?
CB: Definitely the clothes—both men's and women's. Love the elegant, feminine lines of women's but especially love that the men wore knee breeches, neckcloths—and unlike men later in the century, they were clean shaven!
LA: What are the biggest challenges to writing in the Regency Period?
CB: Some vocabulary is peculiar to the Regency, and you want to use it in a context that won't confuse readers.
LA: Why did you choose to write Regencies for Love Inspired?
CB: I was honored that the senior editor of Love Inspired Historical came to me and asked me to write for her. I was thrilled because I'd developed a love of inspirational romances. Deeanne Gist is a friend of mine, and I love her award-winning books.
LA: What is your favorite Regency Food, aspect of dress, and/or expression?
CB: I don't get into food a lot in my books because I don't think modern readers would like to read about the excessive gluttony of the period! I love the wonderful formality and manners of the upper classes in their speech of the period. I really don't like it when I read a book where an earl says, "Call me John." This simply wasn't done. Ladies were always Miss Lastname even to their closest friends.
LA: What is your favorite Regency setting; e.g., London, country house, small village?
CB: For my own books, I like a mix of the two. I've been to London many times and like to describe it as I believe it looked in the Regency, but there's nothing like those grand country estates, and I like my readers to get a taste for that, too.
LA: What makes your hero and heroine uniquely Regency?
CB: In my newest book, the hero is in Parliament, and it plays a particular role in my book. They both favored reforms to benefit the lower classes.
LA: Tell us about your book.
CB: It's actually sort of funny that in the same month I've got two new releases, and both of them are G-rated. As an ebook only, I've got CHRISTMAS BRIDES: 3 REGENCY NOVELLAS.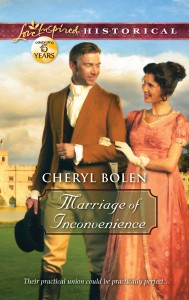 Marriage of Inconvenience, Love Inspired Historical: Proposing to the Earl of Aynsley seems a sensible—if unconventional—solution to Miss Rebecca Peabody's predicament. As a married woman, she will be free to keep writing her essays on civil reform. Meanwhile, the distinguished widower will gain a stepmother for his seven children and a caretaker for his vast estate.
But the earl wants more than a convenient bride. He craves a true partner, a woman he can cherish. To his surprise, the bookish Miss Peabody appears to have every quality he desires…except the willingness to trust her new husband. Yet despite his family's interference, and her steadfast independence, time and faith could make theirs a true marriage of hearts.
Cheryl Bolen's Bio: A former journalist who admits to a fascination with dead Englishwomen, Cheryl is a regular contributor to The Regency Plume, The Regency Reader, and The Quizzing Glass. Many of her articles can found on her website, www.CherylBolen.com, and more recent ones on her blog, www.CherylsRegencyRamblings.wordpress.com. Readers are welcomed at both places.
Cheryl holds a dual degree in English and journalism from the University of Texas, and she earned a master's degree from the University of Houston. She and her professor husband are the parents of two sons, one who is an attorney, and the other a journalist. Her favorite things to do are watching the Longhorns, reading letters and diaries of Georgian Englishmen, and traveling to England.