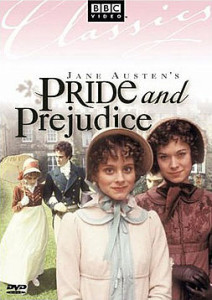 I never thought I'd find a film version of Pride and Prejudice that I liked better than the 1995 BBC/A&E version with Colin Firth and Jennifer Ehle, until I watched this earlier 1980 BBC version with David Rintoul and Elizabeth Garvie.
I first heard about it in a letter to the editor in the publication Jane Austen's Regency World, the official magazine of the Jane Austen Centre in Bath, England.
This reader, a PhD from Australia, thought the 1980 adaptation written by screenwriter Fay Weldon was superior, even though she did like the Colin Firth version as well.
So I ordered this 1980 version and sat down to watch its 5 episodes over the course of a few evenings. After the first episode, in which I had to adapt myself to this whole different cast of Austen characters whom I've come to visualize from the 1995 version, I began to appreciate this earlier crew. In the end, I think I liked Elizabeth Garvie better as Elizabeth Bennet than Jennifer Ehle; and it was a hard choice between Rintoul and Firth–and I'm a big Firth fan. Both actors are drop-dead gorgeous in my opinion, so no contest there.
Mr. Darcy is a hard role to play because he is expressionless in much of the book, so the male actor playing this character has a hard time showing his inner turmoil to the audience, when his face must remain so aloof and deadpan. However, once the turning point is reached in the story (after the first marriage proposal), when Mr. Darcy begins showing a more human side, I think David Rintoul portrays this better than Colin Firth–but only by a whisker. And, sorry, no wet-shirt scene.
Like the BBC/A&E version, this script sticks much more closely to the book than the 2005 Keira Knightley version, yet it takes more liberties than the 1995 BBC/A&E script, because it adds some lines of dialogue that aren't in the book and it adds some introspection on Elizabeth Bennet's part. You hear her thoughts about Mr. Darcy (after she reads his letter, for example). I liked this addition because it makes her gradual falling in love more believable.
I still don't like the 2005 version with Keira Knightley at all (I've never been able to sit through the entire thing), although I enjoyed reading Naomi Rawlings' championing of it. It helped me understand why those who do love it so much do, but I still prefer a version more closely aligned to the book.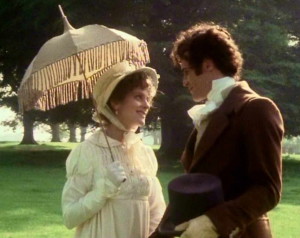 I loved the costuming of this 1980 Fay Weldon version; I think it's the superior version of all three as far as accuracy when it comes to costuming. As I watched each episode, I felt I was looking at paintings and engravings directly from the regency era. I do believe Elizabeth Bennett lived in an upper class (though modest) house, unlike the 2005 version that made the Bennet family look like borderline poverty, (which doesn't jive at all with Emma, where a prosperous farmer is considered too low on the social ladder to socialize with the gentry).
I highly recommend this 1980 adaption of Pride and Prejudice, even for the diehard Firth/Ehle fans.
Comment on any post this week for your chance to win a DVD copy of the 1995 Pride and Prejudice miniseries. Winner will be announced Monday, September 2 and must have a US posting address. 
Originally posted 2013-08-28 10:00:00.