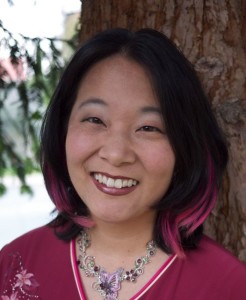 Hi everyone! My name is Camy Tang and I'm so excited to join this Regency Reflections blog! I have been reading Regency romances since I was a Freshman in high school–my first one was Regency Miss by Alix Melbourne, and I absolutely loved it. I recently re-read it a few months ago and it's still as exciting as when I first read it.
My first Regency romance comes out next year from Zondervan/Thomas Nelson. I don't have a title yet, but I'll be writing under a pseudonym, Camille Elliot. I'm very excited and a little nervous about my first Regency romance. Although I've been reading them for years and I even bought Regency research books to read just for fun, I never attempted to write one until this year.
It's about Alethea Sutherton, an earl's daughter who has been neglected by her father, betrayed by her brother, and evicted from her home by her cousin, and so she doesn't trust men in general. However, while living with her aunt in Bath, she suddenly finds that there is someone trying to steal her violin, which was a bequest from a neighboring widow who was like a mother to her.
Alethea is very gifted on the violin, which was considered unladylike and unfeminine to play for women in the early 19th century, and so for an Englishwomen to play it was considered almost scandalous. However, to discover who is after her violin and why, she must enlist the help of a nobleman considered an expert on the violin, Lord Dommick, who is in Bath to repair his reputation for the sake of his sister and mother. For him to associate with a violin-playing scandal on two legs is not his idea of how to go about doing that.
I always knew I wanted to write about a musician heroine and hero, but didn't choose the violin until my research revealed how Regency society considered it so distasteful for women to play it, whereas men were not so constrained. There were a handful of professional violin playing women on the continent, but they were the exception to the rule, and there were no Englishwomen who played the violin.
Things changed in the late 19th century with the rise of the middle class. At that point, despite the fact Victorians in general were a slightly more prudish bunch, the objections to women playing the violin had been dropped and so more women learned the violin in England.
My heroine, of course, is bucking the system like any good heroine would do. 🙂 The hero is not quite sure what to make of her, but by the end he will be properly schooled in the art of love and music.
I'm looking forward to blogging about my favorite subjects, Regency romances and Regency readers!
Originally posted 2013-09-25 05:00:45.