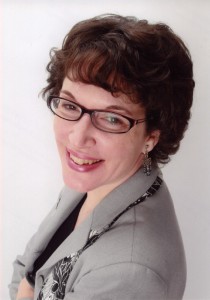 Veteran Regency author Regency Regina Scott joins us again to tell us a little more about her writing, as well as her love for Regencies. Regina's first published book was The Unflappable Miss Fairchild in 1998, with Zebra Regency Romance. Since then she has published continuously, with 19 novels and four novellas to her credit. In the last couple of years, she has turned to writing Regencies with a Christian tone. These have found a home with Love Inspired Historicals. Her fifth Christian Regency, The Rake's Redemption, is out this month.
1. Last time you were here, you told us about how you fell in love with the Regency time period. What can you tell us about the setting of this new book?
This story is set entirely in London during the Season, but my hero is on the fringes of Society by his own choice, so there's only a couple balls and most of the action takes place out of doors—driving in the forgotten corners of Hyde Park, meeting in secret at Vauxhall Gardens, dueling on Primrose Hill.
2. Was there any fun fact about the Regency period that you stumbled across in your research for this book that really fired up your imagination? Any little tidbit that prompted a plot point or a cool character moment?
I stumbled across an article written just after the Regency that laid out the specific rules for duels, contrasting them to those of the French. Because my hero, Vaughn Everard, has a reputation as a duelist, knowing some of the rules he could choose to keep or break really helped me write the main dueling scene in the book and keep it in his character. I learned to fence when I was in college, so I really wanted to get that scene right!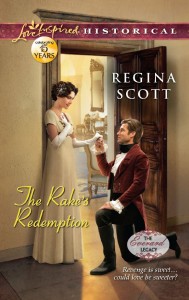 3. Does your new book, "The Rake's Redemption", continue the story of any of the characters from your last book, "The Captain's Courtship"? What did you enjoy about writing a linked story? Was there anything about that connection that made writing "The Rake's Redemption" more difficult?
The Rake's Redemption is the third book in the Everard Legacy miniseries, starting up shortly after The Captain's Courtship left off. This book tells the story of how Vaughn Everard finally finds the man responsible for killing his beloved uncle, and his cousin Samantha's continued attempts to fulfill the requirements of her father's will.
I love writing linked stories because they give you a bigger canvas on which to lay out an adventure. But they're also hard, because if you decide later that it would have been better for the hero of book 1 to have done something to set you up for book 3, it's too late!
4. Tell me a little bit about your hero, Vaughn Everard.
Vaughn is the quintessential warrior poet—literally! He grew up before the Regency began, so he tends to have more of the swashbuckling attitude of the previous era—lace at his cuffs, sword at his side. That puts him in direct contrast with his more elegant, refined peers. And he writes moving, romantic poetry that sets all the ladies' hearts a-flutter. Can you tell he's my personal favorite of the three Everard gentlemen?
5. Tell me a little bit about your heroine, Lady Imogene Devary.
Lady Imogene grew up sheltered, the apple of her father's eye. But she's noticed her father behaving oddly lately, and she cannot figure out why. The problems seemed to start when a certain poet began calling, demanding a moment with her father. So Lady Imogene sets out to discover what's going on. Between her own natural charm and her father's position as the Marquess of Widmore, she'd never had anyone refuse her least request. But then, she's never met anyone like Vaughn before.
6. What can we look forward to next from you?
Next March, the final book in the Everard Legacy comes out: The Heiress's Homecoming. That's Samantha's story, set 8 years after the other three books, where we how the legacy plays out in her life. She's only sixteen in the books out this year, so I wanted to give a little time to come into her own.
7. Where else on the web can our readers find you?
Readers can find me at my webpage at www.reginascott.com, the blog I share with young adult author Marissa Doyle at NineteenTeen, Goodreads at http://www.goodreads.com/reginascott or the Love Inspired Historical Group at http://www.goodreads.com/group/show/24770-love-inspired-historicals.
Thanks for visiting us today, Regina! 
Originally posted 2012-11-28 10:00:00.