LaurieAlice: I've known Louise for many years and know she is her own worst critic. She is hard on herself in describing her own work. Let me assure you, this is truly a Regency romance.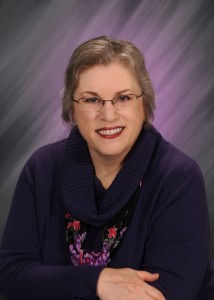 Interview Questions with Louise Gouge:
LAE: What drew you to write during the Regency Time Period?
Louise: I know it's an old answer, but I just love Jane Austen's classic books, so I wanted to try my hand at a Regency story. The strict social and moral codes seem to make happiness for a hero and heroine next to impossible. Can my couple who come from different social classes find true love in spite of all the social restrictions they face? Well, of course. It's a romance. But can I make it an interesting journey along the way? That's the challenge that Jane Austen met with success every time, in my opinion. I can only hope to do the same.
LAE: Tell us what year your book is set in and why you chose that particular time.
Louise: My book begins in late 1813 and ends in early 1814. My hero, a British major, has been wounded in the American War, which England was fighting at the same time they were fighting Napoleon (as was the rest of Europe). But the battle my hero fights to find his place in English society is every bit as difficult as the struggle he found in America. I chose this particular time period because I think wartimes always make interesting backdrops for romances.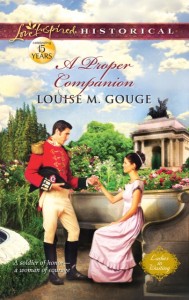 LAE: What's your favorite, unique Regency aspect of the novel, something you wouldn't be able to include in a novel set in another place or time?
Louise: Actually, I can't think of a single thing. I'm too new at writing in this period to know all of the clever little stuff. (This is my first full-length Regency.) I must have some nerve, right? But I hope readers will find my hero and heroine compelling and will enjoy their pathway to happily ever after.
LAE: What are the biggest challenges to writing in the Regency Period?
Louise: Regency readers are very particular and knowledgeable about the era. I try very hard not to make a mistake, but I'm sure something has slipped through that I wasn't aware of. Still, no one has slammed me so far. If I do make an error, I hope readers will gently inform me!
LAE: Who is your favorite Regency Author?
Louise: Much to my shame, I haven't read any of the old Regency authors who really established the genre, which may be the reason I don't know those unique things about the era. I do enjoy the stories by my fellow Love Inspired Historical authors: Regina Scott, Mary Moore, and Deborah Hale. From other publishers, I love Laurie Alice Eakes, MaryLu Tyndall, and Linore Rose Burkard.
LAE: What is your favorite Regency setting; e.g., London, country house, small village?
Louise: I like both the country manor house (with its village) and the London townhouse. The lavish homes in either place just stagger me, especially when one considers the poverty that existed barely a stone's throw from either home.
LAE: What makes your hero and heroine uniquely Regency?
Louise: Other than the historical events taking place in the background, I actually think my hero and heroine's story could be set in a rather wide span of English history from mid-Eighteenth Century to well into the Victorian age, perhaps even touching the Edwardian age. The main conflicts separating my would-be sweethearts are the societal structure and hero's lack of career options. In England, these were basically unchanged for centuries, as we can see in the recent BBC television series, Downton Abbey.
LAE: Tell us about your book.
Louise: A Proper Companion, With her father's death, Anna Newfield loses everything—her home, her inheritance, and her future. Her only piece of good fortune is a job offer from wounded major Edmond Grenville, whose mother requires a companion. The Dowager Lady Greystone is controlling and unwelcoming, but Anna can enjoy Edmond's company, even if she knows the aristocratic war hero can never return her love. Even amid the glittering ballrooms of London, nothing glows brighter for Edmond than Anna's gentle courage. Loving her means going against his family's rigid command. Yet how can he walk away when his heart may have found its true companion?
LAE: When did your novel release and with what publisher?
Louise: A Proper Companion, from Harlequin's Love Inspired Historicals, released in June 2012.
About Louise:  Award-winning Florida author Louise M. Gouge writes historical fiction, calling her stories "threads of grace woven through time." In addition to numerous other awards, Louise is the recipient of the prestigious Inspirational Readers' Choice Award for her 2005 novel, Hannah Rose. With her great love of history and research, Louise has traveled to several of her locations to ensure the accuracy of her stories' settings. When she isn't writing, she and her husband love to visit historical sites and museums. Her favorite Bible verse is "He shall choose our inheritance for us" (Psalm 47:4), a testimony to her belief that God has chosen a path for each believer. To seek that path and to trust His wisdom is to find the greatest happiness in life. Read about Louise's books at her Web site http://blog.Louisemgouge.com
For a chance to win A Proper Companion by Louise M. Gouge, leave a comment. We will draw a winner on June 20, 2012. Be sure to check back on this comment thread on that date to find out who won.
Originally posted 2012-06-13 05:00:00.