Camy here! Lately I bought a hand-made Regency-style dress from my friend and Steampunk author, Shelley Adina, (it was a steal because she didn't want it anymore) and so now I've been looking for accessories. (I'll post pics of the dress soon!)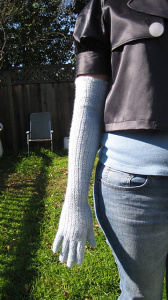 I realized that the blue dress is perfect for some lacy gloves I had made for myself a while ago. Actually, I originally made these gloves because Shelley had wanted opera gloves (designated "16-button gloves" even though there aren't actually 16 buttons on the gloves) for when she goes Regency dancing, and I made my gloves as a test run before making Shelley's.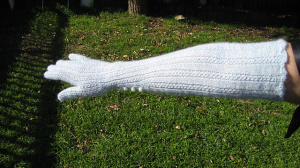 These are a pale blue lace-weight alpaca yarn, although the original pattern called for crochet cotton. I also had to extrapolate a bit to extend the gloves beyond my elbow.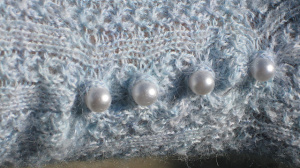 The gloves have pearl buttons at the wrist because Shelley had requested that, for ease of removing the hand portion when she has to eat. I found out later that the button slit is actually Victorian, and not Regency, but it's extremely practical, don't you think?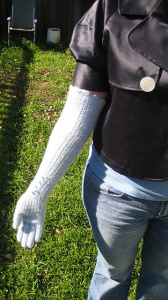 I'm rather proud of these gloves because they're just so pretty! 🙂 I'm also so excited that they're light blue, which matches the gown I just bought!
If you're on Ravelry, here's the link to my project page.
Do any of you own Regency style gowns? Where do you get your accessories, or how do you make them?