Hi all, Susan Karsten here!
…Back from an absence of about four months (that pesky tax job). Since I enjoy Camy's posts on older regency books so much, I am bringing you info about a book, and its author, and telling you about her extensive and delicious back-list of regency reading fun (over 90 titles). If the author Marion Chesney is not familiar to you — get thee to a bookstore — or library in this case — since she isn't (boo-hoo) writing regencies anymore.
No, she now only writes fabulously popular cozy mysteries now and you may know her as M.C. Beaton. However, her regencies are GREAT, and with some digging, are still available to the avid fan. She's got some of her backlist out as e-books lately, too.
Chesney's debut (writing under her own name) book, which I happen to own, is "The Poor Relation." Heroine and former debutante Amaryllis Duvane's fortunes have sunk low and she is reduced to the status of serving her wealthier relatives. Her past love, the Marquess of Merechester, shows up to court one of these wicked stepsister types, and the drama begins.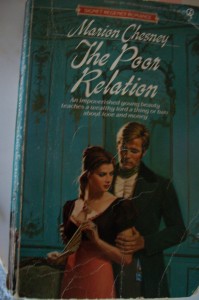 I'll happily admit to being a huge fan of Chesney, in all her genres. But the chance to read one of her first efforts makes me admire her career trajectory even more. As one familiarizes oneself with her work, it's clear that as she gained publishing popularity and confidence, more and more of Chesney's delicious humor comes out on the page. I can only hope to instigate half as many snickers for my own readers…someday…when I make my debut!
If you've ever enjoyed Chesney's regencies, please add a comment.
Susan Karsten
I
Originally posted 2015-04-30 09:56:35.