Laurie Alice here,
This month, I am writing about the first book I ever read by Jo Beverley, a book that got me hooked on Jo as an author.
The Stanforth Secrets.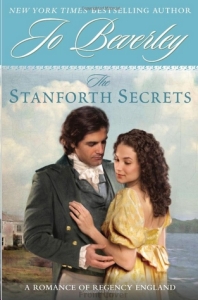 Though the widowed Chloe Stanforth loves her house by the sea, a series of puzzling incidents has left her unsettled and anxious to find a new home. Her situation is complicated by the arrival of her husband's cousin, for whom she has long harbored a deep and guilty attraction.
Back from the war, Justin Delamere hopes he can finally woo Chloe, until he suspects her guilty of treason-and murder. Can he trust the woman he's always desired, and can Chloe surrender her most private secrets to the man who controls her freedom and now her heart?
As a long-time mystery lover, the notion of a Regency mystery thrilled me, and this book did not disappoint. I loved all the odd clues and details the author used, so Regency and so country-house mystery. She captures both genres well in this lovely little book.
A couple of months after I read this book, I met Jo Beverley. She had long since moved on from writing traditional Regencies. Indeed, Walker Publishing had stopped publishing Regencies by this time. I told Jo how much I enjoyed the book. After thanking me in her gracious way, she then told me she would never write such a book again. She said having to worry about everyone in the house was too much trouble. "You have to think about all the servants." Spoken in her lovely Lancastrian accent, "servants" came out almost three syllables with the barest hint of an r on the first emphasized syllable.
The author charmed me nearly as much as that first book and most of her books since.
Although The Stanforth Secrets was published in 1989, it is now available on Amazon. Highly recommended to those who want a clean, traditional Regency romance along with a fun mystery.
Originally posted 9/28/2014.
Originally posted 2015-10-25 22:13:07.