I discovered the most delightful regency romance the other day on Amazon. Friendship and Folly by Meredith Allady, Book 1 of the Merriweather Chronicles.
Something that intrigued me from the first was the introduction, where the author explains how she found this manuscript in an old trunk of her grandmother's, a trunk filled with old journals and manuscripts. She edited the most complete manuscript and has published it as "Friendship and Folly by Meredith Allady." Whether Meredith Allady is her real name, her grandmother's, or a pseudonym–or pun (Meredith, A Lady?) matters not.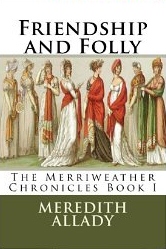 What I discovered when I began reading it is a wonderful story told in what I found is an extremely authentic Regency-style, which I why I think it truly is a discovery from someone's old trunk and not a well-researched historical. There are allusions to historical events and things only someone who lived in the era (and those of us who have done a lot of regency-era research ourselves) are privy to.
The Christian-spiritual thread through the novel is also in keeping with someone writing from that era, very much like Jane Austen. People pray and quote Scripture in a very natural way. It shows how Bible-illiterate our generation has become. The most moving scene happens during the crisis/climax and is very much a Christian lesson.
The story also has the wit of Jane Austen.
If you go on Amazon, though, the author warns those who don't enjoy Jane Austen or an old-fashioned writing style to please stay away. On Goodreads.com, she tells readers: "For all those readers who loathe the 'epistolary' style of narrative, Meredith tenders her heartfelt apologies; but there it is."
I for one was caught up from page one of this regency story and am glad to see that there is a Book 2 in the Merriweather Chronicles.
Originally posted 2014-07-15 14:30:01.