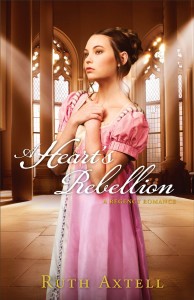 Our beloved Ruth Axtell has a new Regency romance just out! Here's the back cover blurb:
In a world governed by unspoken rules, one young woman is about to break them all . . .
Dutiful Jessamine Barry is tired of waiting patiently for a man to decide her future. So even though Lancelot Marfleet, second son of an aristocrat, is taking an interest in her during the London season, she refuses to consider him as a suitor. Instead, she's ready to take fashionable society by storm–and finds a rakish young man all too willing to help her do it.
Can Jessamine trust her heart to lead her to a love that proves true through thick and thin? Or will her rash actions close the door on the life she really desires?
Lose yourself in Ruth Axtell's sumptuous story of discovering one's true self and finding true love.
Camy here: I have the honor of interviewing Ruth today!
The hero, Lancelot Marfleet's, hobby in A Heart's Rebellion is botany. How did you come up with this for a hobby?
The regency era was a time for amateur scientists. It was considered an appropriate pastime for the gentry and aristocracy. Lancelot studied some of it while at Cambridge pursuing his divinity studies, and when he went to India as a missionary, he was able to indulge his hobby, seeking out and identifying many new varieties of plants.
Did you learn any interesting facts from the regency period about botany?
Yes, I learned about Captain Cook's travels to the Pacific (Australia, New Zealand, and the islands down there) and how many new plant specimens he brought back. This spurred on botanists like Carl Linnaeus, who laid the foundations of the modern classification system of genus & species.
The hero has been in India as a missionary. What was it like for a missionary in regency times?
Very difficult in tropical countries like India, mainly because of disease. Many died very quickly because of fevers and such, which their bodies were not immune to.
The heroine is a vicar's daughter. She makes a brief appearance in the previous regency, Moonlight Masquerade. Did you already have a sequel in mind when you wrote Moonlight Masquerade?
Yes, I got the beginnings of an idea for her story while writing Moonlight Masquerade.
What interested you about her character?
I think some of Jane Austen's heroines inspired me. A lady was supposed to be ladylike–self-controlled, gentle, well-mannered. So, even if her heart was trampled on, she was expected to take it like a "lady." I wanted to explore what was really going on inside this ladylike facade when a woman's heart was breaking.
Camy again: Thanks so much for the interview, Ruth!
To celebrate the release of A Heart's Rebellion, Ruth will be giving away two copies of her book. The first giveaway will end Monday, March 24 at midnight, and the second will end Monday, March 31 at midnight. To enter this week's giveaway, answer this question in the comments below:
In regency times, being the firstborn male was everything in terms of inheritance. What career avenues were open for younger sons? 
Thanks for stopping by Regency Reflections for our Spring Release Extravaganza! Be sure to come back on Thursday for a history post by Ruth as well as another chance to win a copy of A Heart's Rebellion.
Originally posted 2014-03-24 03:59:20.