I was introduced to Modern Regencies, you know the ones written by after Austen, Heyer and Veryan while in college. Nothing I liked more than to unwind with a witty, Regency with everything on the line in the story after calculus.
One novel, A Proper Marriage by Debbie Raleigh is one of my favorites. I reread it each year, at least once.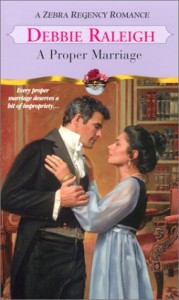 What's not to love about A Proper Marriage. First, the hero and heroine are married, to each other. Not a marriage of convenience (those are great) or gun-induced wedding from a compromise, but an arranged marriage one year in between noted war scholar, Adam Drake and the formerly free-spirit, Adele Morrow.
Here's Adam explaining to Vicar Humbly, the man who wed the two, the problem:
Adam winced in spite of himself. "No, I made very certain before we wed that she understood I would not tolerate the scandalous behavior of her parents," he admitted. "I made a precise list of what I expected in my bride. I even chose her wardrobe to ensure she would not be an embarrassment when we arrived in London."

"And Addy agreed to this list?" he (Humbly) at last demanded in carefully bland tones.

Adam waved a restless hand. "What choice did she have? Her parents had managed to squander their fortune years ago and only survived in the knowledge they would receive a settlement when Addy and I wed."

"Ah." The Vicar nodded in a knowing manner. "Well, you should be pleased. Addy has become a most proper lady."

"Yes, I should be delighted," Adam agreed grimly.

"But you are not?"

Adam polished off the brandy in a single gulp. He thought of the months with Addy in his home. No, he was not bloody well delighted.  No man would be delighted to possess a shadow that slipped from his grasp whenever he reached out to take hold.

"It is not pleasant to live with a woman who is clearly miserable," he conceded with a pained grimace.
Second a smart but bored heroine:
Here's Addy dealing with a rake.
Addy reached out to reclaim her fan. "I am sensible enough to know you are a reprehensible rake! If you wish to polish your fatal charms you should choose a more gullible victim."

"You have it wrong," he (Barclay, the rake) protested. "I have been felled by your beauty."

She rolled her eyes heavenward, but before she could take him to task for his foolishness, a sudden shadow fell over her.

A familiar tingle of awareness rushed through her and slowly she turned to confront the glittering gaze of her husband.
Third, real arguments about cross-purposed souls with the richness of history, duty, and commitment that you don't always find with unmarried couples.
He (Adam) had thoroughly ruined her evening and worse, he had wounded her pride with his blunt confession he did not trust her.

Dash it all. It had been uncomfortable enough living with Adam in a state of polite, frozen courtesy. She might have disliked guarding her every word and being abandoned for hours in this great tomb of a house, but at least she did not have to worry over sudden squabbles and sharp words that seemed to cut her very soul.
Through the vicar's counseling, Addy and Adam manage to reconcile and even find love, with each other.  I adore this book so much, I even cut a trailer for it.
So, if you are looking for a good Regency to curl up with try this old Zebra Regency Romance, A Proper Marriage.
Originally posted 2013-12-23 10:00:00.