Naomi here, with a couple of Regency novels to add to your Christmas reading list.
I've long been a fan of inspirational romance novels, but I must admit Regency Romance is a rather new addition to my romance collection. The Lady of Milkweed Manor was the first inspirational Regency novel I ever read, followed closely by The Silent Governess. Both are by the same author, Julie Klassen. And while these novels don't have some of the overt romance that some other Regency stories do, they both do a good job of combining mystery, history, and yes, a touch of romance.
Here's the description for The Lady of Milkweed Manor: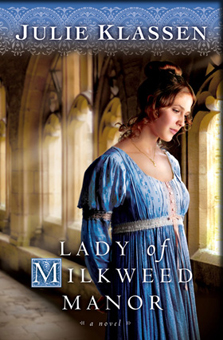 Even a proper vicar's daughter can make a mistake…and now Charlotte Lamb must pay a high price for her fall. To avoid the prying eyes of all who know her, she hides herself away in London's forbidding "Milkweed Manor," a place of mystery and lore, of old secrets and new birth.
But once there, she comes face to face with a suitor from her past–a man who now hides secrets of his own. Both are determined, with God's help, to protect those they love. But neither can imagine the depth of sacrifice that will be required.
Scandal, ruin, secrecy, mystery. It's all very "Regency," even down to the details of a rich lord taking advantage of a naive young miss. Julie Klassen's third book, The Silent Governess, is much the same way, and it went on to win some rather prestigious inspirational romance awards. Here's more about that book: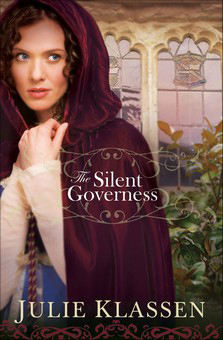 Believing herself guilty of a crime, Olivia Keene flees her home, eventually stumbling upon a grand estate where an elaborate celebration is in progress. But all is not as joyous as it seems.
Lord Bradley has just learned a terrible secret, which, if exposed, will change his life forever. When he glimpses a figure on the grounds, he fears a spy or thief has overheard his devastating news. He is stunned to discover the intruder is a scrap of a woman with her throat badly injured. Fearing she will spread his secret, he gives the girl a post and confines her to his estate. As Olivia and Lord Bradley's secrets catch up with them, will their hidden pasts ruin their hope of finding love?
So there you have it, another inspirational Regency filled with secrecy, mystery, class strife, and a bit of love. Both of these stories create a perfect place for inspirational romance and Regency novels to meet. If you're interested in learning more about this author, we did an interview with Julie Klassen almost two years ago.
Since I won't be blogging again before Christmas, I hope you all have a very merry one, filled with family, food, and lots of time for reading! 😀
Originally posted 2013-12-09 10:08:27.