My husband and I did not get to go on vacation this year. We have a 14 year old lab that literally doesn't get around much anymore. We used to take her with us, but she cannot travel anymore, so our "vacations" are one-day adventures that don't take more than six hours. One of our favorite "mini" vacations is to take chicken salad sandwiches, lots of chips and snacks, some fruit and whatever dessert I have on hand and drive up on the Blue Ridge Parkway for a picnic nestled in the Blue Ridge Mountains of Virginia.
My friend and colleague, Kristy Cambron, did a marvelous post on many of the fêtes London was famous for during the Regency period. But I have always been fascinated by the al fresco luncheons popular during the Season. Merriam-Webster's dictionary defines al fresco as "taking place or located in the open air." Somehow al fresco sounds more…Regency….than an ordinary picnic.
And our simple chicken salad would never have done for an al fresco outing.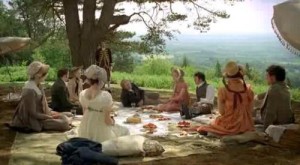 No, no, there could have been as many courses as with a sit down dinner. One could have expected chicken pudding, a joint of cold roast beef (along with the tongue!) and/or pigeon or onion pie.
Cheese and fruit would certainly have been in the "basket." Who could forget the scenes from Emma as they picked strawberries, eating some as they went, then feasting on them as they played the unfortunate game that created hurt feelings with both Miss Bates and Mr. Knightley?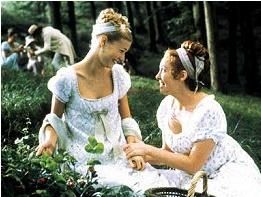 But fresh fruit along with pastry biscuits with orange marmalade would have been the least of sweets for the palate. A nearby stream or creek would be keeping clotted cream chilled. There might be a plum cake, a whypt syllabub or several sponge cakes to round out desserts.
And libations of ale, lemonade, sherry, cider and claret would have flowed freely.
I confess that I often wondered at those attending these al fresco affairs. I believe the very young ladies and gentleman thought of the opportunities to outdo chaperones and snatch a few minutes alone. However, I picture the mature ladies and gentlemen more concerned with the neck cloths they spent so much time tying, wilting in the afternoon sun and the ladies worried their gowns might become creased. But perhaps most were not so fastidious as I imagine and enjoyed a picnic as much as my husband and I do, our only worry which backdrop to choose and . . . ants.
Oh my, do you suppose they had to worry about ants as well?
Sources
Pictures from Miramax Film, Emma 1996
Picture from Jane Austen World.com
Originally posted 2013-06-28 10:00:00.