Kristi here. Have you ever visited a big, historic estate? I love to see the old houses, castles, and palaces and have been privileged enough to visit several in my life. Two things I've learned you should always bring with you: a camera and good walking shoes.
Before the age of the car, people walked everywhere. Horses were expensive to maintain and even if you had them, they weren't always a practical option for exercise or travel.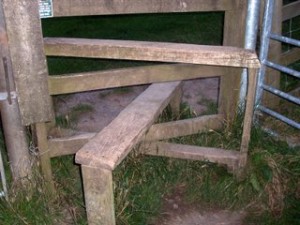 Walking was essential for the working class. They had no other option unless they were traveling a distance long enough to make buying a ticket on the post or renting a hack worthwhile. This made living near work a requirement and visiting family a luxury.
For the upper class walking was a way to kill time and exercise. Walking was especially encouraged for young ladies in 1811's The Mirror of Graces a long, vigorous walk every morning was recommended. Elite families ate very rich, fattening foods and often participated in dormant activities such as reading, needlepoint, and drawing room visits.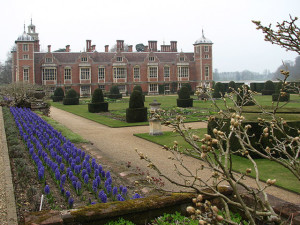 This inclination for walking led to the extensive glorious grounds surrounding most grand homes. In the late 1700s and early 1800s the most famous of grounds designers charged exorbitant rates, traveling around England and transforming acres of land to suit their owners.
While there were differing opinions when it came to trees and expanses of lawn, one thing all designers incorporated were gravel pathways. These pathways wound their way through shrubs and trees, around statues and the occasional water feature. Gravel paths were essential as they wouldn't turn muddy after a rain, thereby ruining the hems of the expensive, fashionable gowns.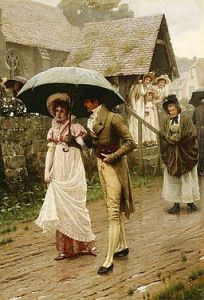 England is no stranger to wet, rainy days. Those long galleries that often ran along one side of the large houses served a greater purpose than an open area to display artwork. When outside strolls were out of the question, people – women especially – would make laps in the gallery to stay active.
Another great benefit to walking was the social acceptance of a man and woman walking together. Proper etiquette required the male stay with his female companion for the duration of the walk. It was also expected that he would lend her an arm if she got tired. One can only wonder how many ladies "got tired" when walking with a man they were particularly interested in.
Do you enjoy walking? Where is the prettiest place you've ever strolled?
Originally posted 2013-05-08 10:00:00.