Vanessa here,
To celebrate the release of Madeline's Protector, we're running a special contest. Starting today through next Friday, May 3, we'll feature thought-provoking questions at the end of each post. To enter the contest, you'll need to supply a thoughtful answer to the question. The grand prize winner at the end of the week will receive a brand new Nook.
But the contest doesn't stop there. Each day a new post goes up (Monday, Wednesday, and Friday) we'll be giving away mini-prizes for that day only. Here's a list of the prizes:
Fri, April 26—$10 starbuck's gift card  – Nancy !!!!!!!!!!!!!!!!!!!
Mon, April 29–$itune card
Wed, May 1–$10 Amazon Gift certificate
Fri, May 3—A paperback of Madeline's Protector.
And that's not all. If you want to be eligible for a second chance to win the Nook tablet, you need to refer someone else to Regency Reflections. (Note: if you bring someone on over, make sure the other person's comment mentions that you referred them).
If you don't feel comfortable leaving a comment to enter the giveaway, or if you want yet a third chance to enter, you can follow this link and enter the contest once on this site: https://contest.io/c/8jhitnpz
Now, on with this post.
In my debut novel, Madeline's Protector, my heroine, Madeline St. James, has been shot. She's drenched to the bone, and the hero, Justain Delveaux, Lord Devonshire, has to stop the bleeding, remove the bullet, and keep her from going into shock.
Devonshire is a complex Regency gentleman. He's a veteran of the Peninsula War and is familiar with patching men up, but a woman?
Luckily, Lord Devonshire is also a reforming rake. His acute knowledge of unmentionables helps him save Miss St. James 's life without indecent action. (This is a Christian Regency. 🙂 )
Thus, I researched stays. Stays is the English term for the corset during the Regency. Prior to the 18th century, corsets were stiff devices made to support and shape a woman's body. They were made of silk, silk brocade, linen, or even leather. They were boned throughout with whalebones, making the unmentionables stiff and restricting.
Here are some pictures of corsets from the 1760 and early 18th century.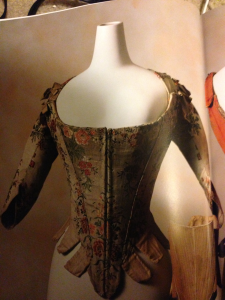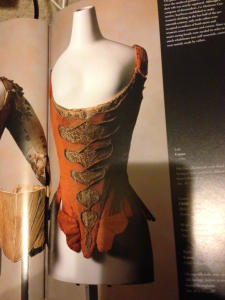 One of the things that struck me about these corsets were the bright colors of these Pre-Regency pieces. Also, it was not uncommon to find over 150 wale bones inside the corset to sculpt the female shape. Ouch.
These units laced in multiple directions. Picture A laces in the front and the back.  Picture B laces on both sides under the arms. So trying to unhook these models varied from corset to corset. Thus attempting to loosen one of these to aid a stricken woman's breathing could be useless or fraught with disaster. We'd hope a gentleman wouldn't need to grope a woman trying to determine where the laces of the corset were positioned.
Typically, the corset did not sit against the skin. A chemise of cotton chintz or muslin covered the body sitting underneath the corset. This continued to be the norm during the Regency.
Between 1785-1800's, corsets were typically light in color. Boning is used to stiffen, but metal springs are also used to help shape.  Fabric choices are quilted silk taffeta,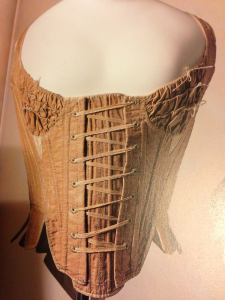 linen, and chintz. Hand darned eyelets routed the laces to keep on the corset. These corsets laced in the front and/or back. (Picture C)
By 1804, a new type of corset was created. These were soft without the all over use of whalebone.  These corsets were constructed from cotton, cotton sateen, cord quilting, and/ or cotton satin. The bust could have a drawstring to help provide shaping. It might also use a busk, a long strip of metal or flat bone to stiffen the corset. The following picture show a long rectangular section between the breasts (Picture D). That is the busk.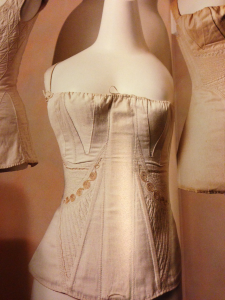 These corsets used laces in the back (Picture E) to close the garment. Sometimes these corsets are called Long Corsets.
Therefore, the hero during the Regency more often than naught guessed correctly, if he attempted to loosen the corset by finding laces along the heroine's back.
A man during the Regency did not have to be a rake or a womanizer to have knowledge of a woman's undergarments. Having a sister, mother, or a dandy as a brother could provide the needed information. Some dandies wore Apollo or Cumberland Corsets. The male corsets bound the stomach and were constructed with whalebone to stiffen.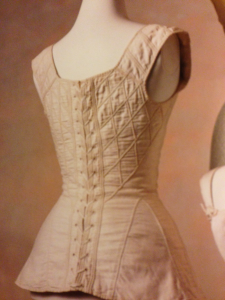 One of the more interesting things, I found during my research is that girls also started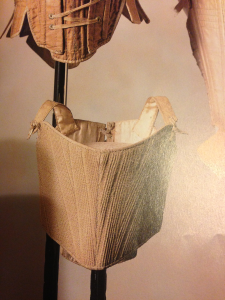 in corsets (Picture F) at a young age.  I suppose if you become accustomed to something early in life, it is easier to bear.
Today's question: If you lived during the Regency and found yourself in a dire circumstance would you:
A. Do everything possible to save yourself, not caring of any possible ramifications.
B. Do everything possible, but you would worry about potential scandals or compromise.
C. Risk everything to a point. Your family name and position could not be threatened.
Please add your comment below. You could be today's daily post winner. All comments will be entered into our grand prize drawing.  For an extra chance to win click here: https://contest.io/c/8jhitnpz
Originally posted 2013-04-29 10:00:00.