We have a winner!
The winner of our Moonlight Masquerade contest for a $25 Amazon gift card is:
Melissa!
Who correctly answered last Friday's question about where Napoleon escaped from in 1815.
If you're wondering whether you answered your questions correctly, we have the answers for all four questions at the bottom of the post. But first, we want to give you a peek at the dress that appears on the cover of Moonlight Masquerade. Did you know it was handmade as a homage to the 1820's? This petticoated Regency dress was made by Patricia Franco, who wrote a little snippet about the dress for us to share with you:
The cover of the book, Moonlight Masquerade, is much more than a collection of words on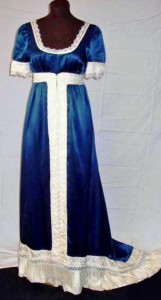 a blank page.  A photographer and designer play a pivotal role in bringing a book to the public's attention. For Moonlight Masquerade, photographer and designer Brandon Hill brandonhillphotos and the team at Revell Books wanted something richer, something that gave a sense of the era and conveyed an emotion. He found the right place, and the right model, but  jeans wouldn't do. A quick search through Etsy found a sweeping, blue satin dress – made by Patricia Francisco of Patrician Designs. Nice find!
The dress you see is handmade, true to the period, complete with petticoats and custom fabric trim. This isn't some Butterick or Simplicity pattern. It is a lot of custom work. Whew! It's a work/art/passion and the kind of work that keeps Patrician Designs busy.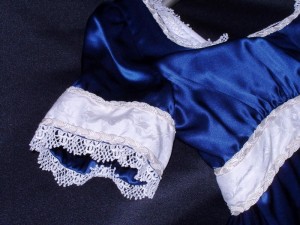 Of course, let's be real. Truly in period would be hand-stitched by the light of an oil lamp using fabric that somehow survived a couple of centuries. Welcome to the new millennium. Sewing machines and electric lights were involved in the production of this gown.
The dress was a project encouraged by a Victorian reenactment  group, back before Patrician Designs was dreamed up. The basic dress probably didn't take as long as the trim or the petticoats. The trim was cloth not even intended as trim, but the pattern and texture were just right for the band at the high waist and down the front. The petticoats, which are hard to see, took just as much time, especially fitting the petticoats to the dress. All of the layers must hang and flow together. Imagine going for a walk in this dress, maybe even dancing. It is what they did in the regency era.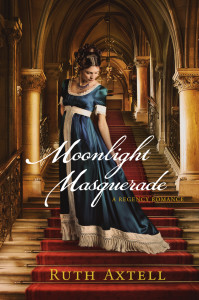 It is a joy to see the dress on the cover, and to have a copy of the book (which will be treated tenderly, no broken spine!) If you want to see more such work, including other eras (even steampunk) go to the same site used by the book cover designers .  Enjoy!
http://www.etsy.com/shop/PatricianDesignsEtc
www.facebook.com/whidbeysewing
Thank you for sharing with us, Patricia. The dress is absolutely stunning! (Though I must admit, anything that involves a sewing machine often has me running for the other room.) The last time I attempted to sew something, I spent 45 minutes trying to get the bobbin to wind. At that point, I gave up and decided it would be easier for me to just pay someone else to do my sewing. You have a really remarkable talent!
And now for the answers to our quiz questions from last week:
1) The summer of 1814 was known as the victory summer in Britain because the war with France was over. But in 1815 they were mobilizing troops once again. Why?
a) Napoleon had escaped from Elba.
b) Napoleon had allied himself with Russia.
c) Napoleon had escaped from St. Helena.
d) Napoleon had escaped to America.
Answer.: a) Napoleon had escaped from Elba. He had been put on an island off the coast of Italy by the British and other Allied governments but escaped in a ship with 1000 men and landed at Antibes in Southern France.
2) Which allied armies fought the French in the battle of Waterloo?
a) British, German, Russian
b) British, Austrian, Prussian
c) British, Russian, Prussian
d) British, Dutch, Prussian
Answer.:  d)  The Duke of Wellington led the British forces alongside the young Prince of Orange who commanded the Dutch troops. They were joined by the Prussian troops led by von Blücher who arrived from the east.
3) The hero in Moonlight Masquerade is lent to the Home Office from his job at the Foreign Office, in order to spy on Lady Céline Wexham.  Céline was born in France but spent her adult life in England when her mother and she escaped France during the French Revolution. What were these French living in England called?
a) foreigners
b) émigrés
c) francais
d) frogs
Answer: b) émigrés, a French word for emigrant, was used by the British aristocracy and gentry, who were conversant in French, to describe all the arriving French aristocrats fleeing the Reign of Terror.
4)  The title of Moonlight Masquerade refers to a masked ball. Which of the following costume would not be a typical one at a regency bal masqué?
a) shepherdess
b) pirate
c) hula girl
d) Harlequin
Answer: c) hula girl, which is a Hawaiian dancer. Europeans were not very familiar with Hawaii in the Regency period. The islands had only been discovered by Capt. Cook in 1778, and the only people traveling there were military advisers and merchant ships.
5) Who was made the leader of France after Napoleon abdicated?
a) Louis XVI
b) Louis XVII
c) Louis XVIII
d) Charles X
Answer: c) Louis XVIII, formerly the Comte de Provence, a younger brother of Louis XVI, who was beheaded during the French Revolution. His son, who would have been Louis XVII died from sickness at the age of ten while in prison. Charles X, a younger brother of Louis XVI & Louis XVIII, reigned as king after his brother Louis XVIII died.
Thank you for everyone who participated in our contest. It was lovely to read your answers and get to interact with you, and we really appreciate your enthusiasm over the release of Moonlight Masquerade! Next month we have two more books releasing, and we look forward to telling you more about each of those!
Originally posted 2013-03-25 10:00:00.