Laurie Alice here: Today, I invited Josie Riviera to present the Monday history post, for gypsies, "travelers" as they are called today, have played rolls in many Regency romances over the decades of the genre.
Josie has also offered to give away a copy of her e-book, Seeking Patience. Leave your comment, and let's talk about your impression of gypsies.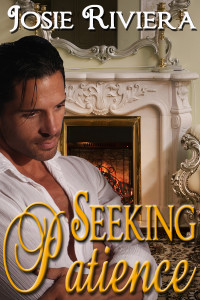 Note: Only comments on this post are eligible to win. I will announce the winner when I next post on Regency Reflections on March 15, 2013.
"Gadje Gadjensa, Rom Romensa." This is a Romany (Gypsy) saying that means "Gadje with Gadje, Rom with Rom."
or
"Mashkar le gajende leski shib si le Romenski zor."
"Surrounded by the gadje, the Rom's tongue is his only defense."
So what is a gadje? A gadje in the Romany language means "not one of us." Many Rom prefer to not allow outsiders (us) into their lives. It's no coincidence that in my hours, days, and months of researching the Romany for my novels, little information was available. Odd, because the Rom have lived in many places throughout the world for centuries. They're a widely-traveled people. Yet there is little written history regarding their origins, although recent evidence points to an emigration from India 1500 years ago.
Some believed that The Rom originated in Romania, but they didn't. "Rom" means "man" in the Romany language.
I believe the reason there is little information available is because the Rom simply prefer it that way. They are a proud people who keep to themselves. And they are nomads, forever on the move, traveling by horse and wagon in caravans. In one of my novels, a bender is described in detail. It is a tent, easily constructed using bendable twigs and any available materials on the side of the road.
The first recorded mention of a Romany in England was 1514.
In England and Wales in the year 1530, King Henry VIII forbid Gypsies from entering the country, and the death penalty was imposed if they didn't leave within the month. In 1822, the Turnpike Act was introduced, fining any Gypsies camping along the road.
It is no secret that the Rom have suffered persecution, prejudice, exclusion, and discrimination for centuries. The "Gypsy" stereotype includes a criminal, fortune-teller, blacksmith, thief, and musician, a dark-complexioned, shadowy figure. But why do so many of us harbor this unfair prejudice? Perhaps because of the Rom's nomadic existence, lack of a solid religious belief, and exotic clothes and lifestyle. Their dialect is distinct and related to Sanskrit. Their tradition is oral, for they didn't have the luxury of building libraries.
I explore many of their beliefs in my novels. One shared by all Rom is cleanliness. Mahrime means unclean or polluted. To avoid mahrime, clothes covering the top half of their body are washed separately from clothes on the bottom. Certain parts of the female body are considered unclean, and doctors are sometimes avoided because they deal with illness. And, a Rom can become polluted by being too close to a gadje.
Beng is a Rom word meaning devil. This evil force continually seeks to dominate a Rom's life. The dreaded mulo are spirits, always watching, ready to mete out curses and punishments for wrong-doing.
My latest release on Amazon.com, Seeking Patience, is a Regency inspirational romance featuring a half-Romany, half English hero named Luca.
Do people prove their self-worth by strength, or by character?
Luca's father is an English nobleman, although Luca was raised as a Gypsy. He struggles with his heritage throughout the novel, seeking hope, seeking forgiveness, and yes, Seeking Patience. He is forced to depend on Lady Patience Blakwell, a woman who represents all he loathes. She struggles with her faith, trying to understand why God is not following the plan she had for her life—to be loved and cherished by her husband. After her husband's unexpected death, her grown stepson charges her with her late husband's murder.
And Luca must decide whether he should turn away when she needs him, or risk his most vulnerable, forgiving self to keep her safe. By denying his English heritage, has he denied a part of himself?
Seeking Patience: http://tinyurl.com/a9nnbwy
Originally posted 2013-03-04 10:00:00.