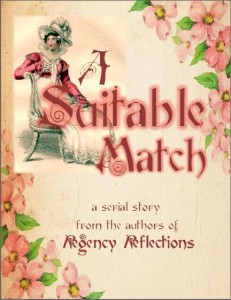 To kick off our second year of celebrating Inspirational Regency fiction, we are presenting the serial story, A Suitable Match. At the end of the month we'll be giving away a fabulous prize package filled with items tied to the story. For a chance to win, find the item mentioned in this section and leave a note in the comments. Details and a list of prizes can be found here. 
Missed an earlier section? Read it here: 1 2
The George and Pelican Inn, somewhere between Somerset and London
April 1818
Pretending to be groggy, Cressida let her eyes fall closed. 'My dear' indeed. She'd take him to task later for disobeying her wishes when she didn't feel as though her head was full of cotton. Allowing him to assist her down from the carriage, she gave her clothes a few half-hearted swipes, and when she woke a bit more, she raised a gloved hand to her nose and mouth. The inn yard reeked above the scent of her spilled perfume.
Twiford held his arm out toward her, and she leaned on it a bit heavier than she'd been willing to in the aftermath of the upset on the road. No need to reveal her hand. He'd find out soon enough her antipathy toward him would not be discarded with ease. He'd conducted himself today in a manner that she couldn't find fault with, but she'd not forgotten the way he'd tried to befoul her engagement. The whispers, the disapproval, the outright snubs, and insults.
The door opened as they approached and the small group of travelers moved into a narrow hall. Twiford rapped out a series of instructions and the servants flew into action. Wraps were taken, bandboxes were swept up the stairs.
"I'd like my maid to share my room. Her health has been delicate, and I'd not have her in some drafty attic room." Cressida lifted her chin, half fearing this request would be ignored as well.
"I'll make sure the innkeeper has a truckle bed moved into your room. It will only be a short wait. Meanwhile, I've ordered a private dining room. Will you join me?" The brow above one blue, sparkling eye lifted in inquiry.
"I must rid myself of travel dirt, my maid is ill, and the hour is late. I must forego that pleasure for another day." The day pigs fly, she thought to herself. If only she'd been less groggy, she'd have swept up the stairs and avoided this convenient invitation. How she longed to reach Great-Aunt Ainsworth's townhouse. Her own house for now, and longer if she managed to wed in the three months remaining before the will would be null and void.
She turned toward the stairs and without warning, the shock of the carriage accident swept down on her. A sob escaped her throat. Tremors shot through her chest and tears slipped down her cheeks. How could God allow this to happen? Her mind protested against the reality that brought her to this place in the company of a sworn enemy. And Ross. She must ascertain his condition.
Turning back toward Twiford, she made inquiry, "What arrangements have been made for the injured driver of my coach?" She hated the way she sounded. Like a whimpering schoolgirl. But it couldn't be helped. The combination of exhaustion and shock had taken a toll on her composure.
"He's been lodged in the stable living quarters. He's in good hands." Twiford moved over to Cressida's side and put a tentative arm around her shoulders, and began to guide her toward the stairs. Knighting shambled along behind, clutching two disheveled bags.
Now that his arm was hovering around her shoulders, she was taken aback by the feeling of protection that washed over her. This enemy, this man who'd done everything he could to discourage Chard's ardor, now gave her the soothing sense of being shepherded up the stairs. At the door to her room, down a dim hall, he bowed to her.
"Good night, sweet lady." He turned away and strode down the hall.
The shock of being bereft of the unwanted anchor he'd been shot through her and she sagged against the door frame.
"Miss Blackstone, let's go in now." Knighting's maternal instincts were well-known to her and she complied, not wanting to cause hurt feelings in the faithful retainer. After all, in her orphaned state, Knighting was her closest companion. Cressida roused herself to enter the low-ceilinged room, and the maid closed the door after them.
The maid, though suffering a cold, offered her mistress needed comfort. Knighting helped Cressida out of her cloak and took her hand, guiding her to the pitcher and bowl on a side table. "There you are, miss. That's right. Warm water does do wonders. Ooh, that bed looks like heaven to me, and here they already brought up a steaming pot of tea."
As she poured the tea, Cressida told her maid, "Open the bags, let's get our nightgowns on and go to sleep. Tomorrow is soon enough to deal with tomorrow's problems." It didn't seem fair. Departing the cottage this morning, all had seemed so clear. They'd get to London, she'd secure a husband, she'd come into her inheritance. But then Ross had arrived, forcing her to accept his escort. Next, the accident, and being in essence made off with by Miles, Lord Twiford, her nemesis from the days of her engagement to Chard.
She sat on the edge of the bed, clutching her bowed head. Lord, please guide me. I need Your fatherly hand. In Jesus… Her prayer was cut off by a sharp series of taps on the door.
*Section 3 was written by Susan Karsten, graciouswoman.wordpress.com *
Did you find the hidden item? Note it in the comments below for a chance to win. 
Don't forget that the readers will ultimately choose who truly loves Cressida, and whom she loves in return. Already have a favorite? Go vote for him! Want everyone else to vote for him too? Grab a voting badge from the Suitable Match Extras page. 
Who do you think is outside the door? Read the next installment!
THE CONTEST AND POLL ARE NOW CLOSED. Feel free to continue to enjoy and share the story.
Originally posted 2013-02-11 10:00:00.