Regency Reflections turns one this month and we couldn't be more excited.
Since we're a blog for readers of Inspirational Regencies, we thought we'd give you something to, well, read!
The serial story A Suitable Match starts Wednesday.
What is a serial story you ask? It's one continuous story with sections contributed by our bloggers. You won't want to miss any of it, but in case you want to know when your favorite author is coming up, here's the schedule: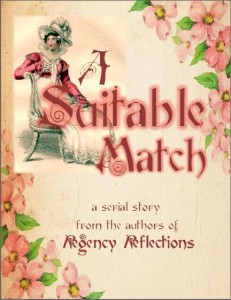 February 6 ~ Laurie Alice Eakes
February 8 ~ Vanessa Riley
February 11 ~ Susan Karsten
February 13 ~ Mary Moore
February 15 ~ Kristi Ann Hunter
February 18 ~ Kristy L. Cambron
February 20 ~ Naomi Rawlings
February 22 ~ Ruth Axtell
February 25 ~ Laurie Alice Eakes with the conclusion that YOU choose!
More About A Suitable Match
Cressida Blackstone has three months to do something she thought she'd never do – get married. Three years earlier, her merchant father lost his money, forcing her to abandon her plans of marrying an aristocrat in need of an heiress. Now her aunt has changed everything, leaving her vast fortune to Cressida but only if she marries within six months.
Only three months remain until her deadline and Cressida has decided to travel to London and land herself a husband, but her past waylays her on the road.
Ross Ainsworth expected Cressida's aunt's wealth to come to him – he was her grandson after all. Now he's offered himself as an escort to take Cressida to London. But does he actually want her to arrive?
Cressida left Tristram, Viscount Chard when she no longer had the funds to refill his coffers. Breaking off their impending marriage was the only way to free him to find another heiress. But is he thankful or desirous of revenge?
Lord Twiford never approved of Cressida's relationship with Chard. But was it because he didn't like Cressida or because he liked her too much?
Now Cressida must decide who wants her heart and who wants her money.
And you get to help her, because…
You, the Readers are choosing the end!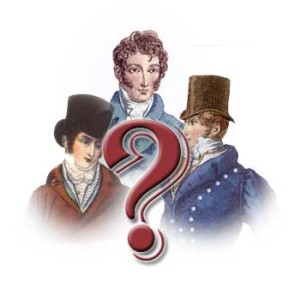 Read the story, get to know Cressida and her bevy of potential suitors. You'll have to discern who Cressida loves – and who loves her in return.
Vote for your favorite beau in the Suitable Match Poll. The winning man will be revealed in the story conclusion on February 25.
Once you've picked a favorite, why not encourage everyone to vote for him? You can get badges for your website or blog encouraging people to pick your man. See the badges and more on the Suitable Match Extras page. 

Win an amazing prize package… if you can find it.
One lucky reader is going to win the Suitable Match Prize Pack containing eight items from the story. How do you win? You find them!
Each day, one item from the prize pack will be hidden in the story. Find it, mention it in the comments, and you will be entered in the drawing for the prize. Find all eight items and you'll earn eight entries.
The contest will close at 5:00PM EST on February 26, 2013.
Suitable Match Prize Package Contents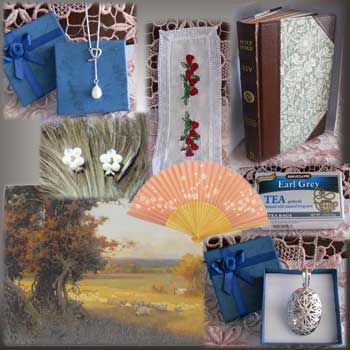 So what are you looking for? The following items, in no particular order, are found within the story. Sometimes, they're pretty creatively thrown in.
~ Pearl hair pins
~ Leather Bible
~ Embroidered Bookmark
~ A Silk Hand Fan
~ Painting of the English Countryside (Print)
~ Pearl Drop Necklace
~ Filigree Locket
~ Earl Grey Tea
Get Ready, Get Set, Read!
Settle in with your tea and get ready to read. A Suitable Match starts this Wednesday.
Originally posted 2013-02-04 10:00:00.