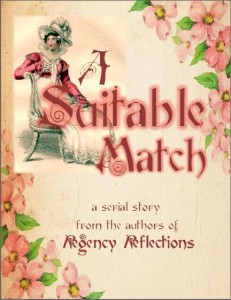 To kick off our second year of celebrating Inspirational Regency fiction, we are presenting the serial story, A Suitable Match. At the end of the month we'll be giving away a fabulous prize package filled with items tied to the story. For a chance to win, find the item mentioned in this section and leave a note in the comments. Details and a list of prizes can be found here. 
Somerset, England
April, 1818
With his black hair drawn back in an old-fashioned queue and a scar running from his ear to his chin, as though someone had tried to slit his throat and missed, all her prodigal cousin needed was a cutlass swinging from his belt to complete the impression that Ross Ainsworth was really a pirate. Then again, Miss Cressida Blackstone decided, with his eyes as black as obsidian and possessing a gaze as penetrating as tempered steel, he didn't need a cutlass to skewer his prey.
A shiver racing up her spine and out to her fingertips despite the mild April morning, Cressida narrowed her eyes at her childhood nemesis and swallowed so her voice would not croak with the dryness of her throat. "What are you doing here? I was told your grandmother's coachman would arrive to drive me to London."
"He cannot drive with a broken wrist. But since I enjoy driving and am headed to London, I assured him I would do the honors." The smooth, aristocratic drawl issuing from a man with Ainsworth's piratical visage never failed to startle Cressida.
Since he arrived in Bath for the reading of his grandmother's will three months ago, a great deal about Ainsworth surprised her—surprised her and raised her suspicion hackles. They had been best friends as children. Then, when she grew old enough to let her hems down and put her hair up, he grew formal and distant with her and departed for foreign parts soon afterward.
He had returned to England in time for the reading of his grandmother's will–the will that left him with nothing and Cressida, her great-niece everything. The only stipulation was that Cressida must marry within six months. And now Ross Ainsworth was anything but formal and distant with her. No doubt he was attracted to the money, like all the gentlemen who had courted her upon her come-out at eighteen, wanting to wed her for her father's fortune regardless of the fact that fortune came from trade.
Money made up for a number of flaws in one's birth if an old family needed an infusion of wealth.
Target for fortune hunters or not, Cressida needed to find a husband. With wealth at her fingertips, she was not about to live her life in the poverty in which her father's error had left her. In a way, she, too, was marrying for money. Marrying for love was a childhood dream left behind with a broken betrothal, a damaged reputation, and no childhood friend to tease her out of her doldrums.
That childhood friend, Ross, now looked about him as if puzzled. "But I expected you to have a chaperone."
Cressida flicked a glance at her middle-aged maid standing purse-lipped beside her on the steps of the cottage they had called home for three years. "Knighting is quite enough of a chaperone until we reach London."
"Not when you are traveling with your cousin distant enough to make me eligible," He purred, his dark eyes raking over her.
Cressida refused to be intimidated."Why, Ross, I never knew you were such a high stickler." She clutched her bulging reticule in one hand and her great-aunt's jewel case in the other, and headed for the carriage. "Enough of this. We must be on our way."
Ainsworth threw up an arm to bar her way. "My dear cousin, I would not wish to place you beyond the pale of respectability before you reach town." He smiled. "Further beyond the pale than you already placed yourself, that is."
"You." Cressida ground her teeth. "You are scarcely one to be bringing up the past, Ross Ainsworth."
Which wasn't fair to him. He said he had repented of his behavior in Paris after Napoleon's defeat. His grandmother must not have forgiven him for embarrassing her, though. But if he had truly set aside his scandalous behavior, she should be a lot kinder to him.
She held out her hand to him. "I am sorry. I should not have–"
Muttering something that sounded like, "You may walk to London for all I care," he spun on his booted heel and stalked to the front of the carriage.
Her apology rejected, Cressida waited until he had climbed onto the box before she called out, "Cousin, you cannot take the coach and team without my permission. They belong to me now."
He looked at her, and lightning flashed through his dark eyes. "Very well then. Get in. "You win. . .this time."
Another one of those odd shivers raced along Cressida's limbs, and she stood rooted to the flagstones with the scent of apple blossoms too strong in her nostrils and her mouth tasting of a copper penny. An invisible hand seemed to pluck at her, trying to draw her back to the haven of the cottage.
"I'll get the steps down for you, Miss Blackstone." Knighting's quiet voice, roughened from a bad cold, snapped Cressida out of her momentary stupor.
"Let me help with the bandboxes since my cousin has not the courtesy to do so." She set her jewel case inside the coach, then returned to the steps to retrieve one of the small cases that made up her luggage.
She must buy new clothes in London. She must purchase a number of things in London—like a husband if she wanted to keep her inheritance.
A face flashed through her mind, as she tossed boxes into the boot, the visage of the man her deceased father had thought his trade-earned wealth could buy. It would have been a suitable match all around, if Papa had not lost most of his money. Tristram, Lord Chard, needed her money at the time, and Cressida. . . Her heart had needed him.
She shook off the memory and settled herself in the carriage, preparing for a long, tedious journey with her quiet maid and her embroidery. She half expected Ainsworth to refuse to drive the vehicle, but once Knighting closed the door, the carriage lurched forward, then pulled out of the lane and onto the Bath to London road.
It was the best maintained road in England, thanks to the tolls. Ainsworth, however, drove so swiftly the coach swayed and bounced too much for Cressida to ply her needle without pricking her fingers. Nor could she read. Knighting engaged in a brief dialogue about how many gowns Cressida must order for her husband-hunting expedition, then fell asleep deeply enough for her snores to fill the coach. At their infrequent stops to change horses or collect some refreshment, Ainsworth did not speak to her at all.
As twilight drew near, Cressida tried to rest after weeks of sleeplessness. Each time she drifted toward sleep, Knighting's snorting exhalations startled her awake. When she reclosed her eyes, Chard's face swooped before her eyes, with its hurt accusation solidifying into anger when she broke their betrothal three years ago.
Then another face joined his, the cold contempt of his friend Miles, Lord Twiford. He had always been against her marriage to Chard, thinking the daughter of a cit was not good enough for a viscount.
A crack like a snapped tree branch resounded through the carriage. The vehicle pitched to one side, sending Cressida slamming to her knees. Pain shot up her thighs, through her body, and into her skull. She gasped and grappled for a handhold. Her fingers scored silky velvet, and she fell against the wall of the carriage. Knighting sprawled across her calves, pinning her in place.
That stupid knock-in-the-cradle of a cousin had landed them in a ditch. And her precious vial of violet scent had broken, soaking through her reticule and clouding the carriage with a choking haze of perfume.
"I. Am. Going. To. Kill. You." Cressida gasped out each word. "If. I. Ever. Get. Out."
And, of course, if Ainsworth had not fallen from the box and injured himself beyond repair.
Outside, the horses whinnied, and a number of male voices shouted. Inside, Knighting groaned.
"Are you all right?" Cressida asked her maid in a more temperate tone.
"Yes, ma'am, but I seem to be stuck."
Not as stuck as Cressida. Her legs were going numb. Her left arm was already numb. And the carriage rocked and tilted further, threatening to turn turtle at any moment. Or worse, it could keep rolling and land them in the River Kennet.
Cressida could not swim. She doubted Knighting could swim. She doubted they could get out of the carriage before they drowned even if swimming were an option.
"Knighting, I apologize if I hurt you, but I must get us out of here."
Since the men outside seemed more interested in shouting than being useful, Cressida rallied her strength and grasped one of the hand straps dangling from the canted roof above her. With supreme effort, she hauled one leg from under her maid. The leg felt like a wooden peg for all the sensation she experienced. She stomped her foot to bring back some life to the limb, and her heel smashed through the window.
The shouting outside ceased. The carriage door yanked open hard enough to send it crashing against the side and the vehicle tilting another five degrees down the embankment.
"No one told us there were passengers inside."
The voice sent Cressida's heart dropping through her stomach and onto an icy bath in the river. Head reeling, she brushed amber curls out of her eyes and stared into the countenance she had feared never to see again, and hoped she would encounter so she could prove him wrong about her.
* Section 1 written by Laurie Alice Eakes, www.LaurieAliceEakes.com *
Did you find the hidden item? Note it in the comments below for a chance to win. 
Don't forget that the readers will ultimately choose who truly loves Cressida, and whom she loves in return. Already have a favorite? Go vote for him! Want everyone else to vote for him too? Grab a voting badge from the Suitable Match Extras page. 
Who do you think Cressida sees outside the carriage? Read the next installment now. 
THE CONTEST AND POLL ARE NOW CLOSED. Feel free to continue to enjoy and share the story.
Originally posted 2013-02-06 10:00:00.