If you've read any significant amount in the Regency genre, you've come across references to the décor fashion trend involving Egyptian-style furniture. Ever wondered or imagined what it was like?
It's clear to me why this particular style is not remembered with fondness and it hasn't swept back around in nostalgic, retro reoccurrences. Regency culture became fascinated with ancient articles upon the publication of Henry Holland's book "Etchings of Ancient Ornamental Architecture". This ushered in a period of interest in the producing of copies of ancient objects coming from Greece, Rome, and Egypt.
comfy?
When the book, "Reproductions of Classical Furniture" by designer Thomas Hope came out in 1807, the Egyptian reproductions using mainly mahogany, but also rosewood and zebrawood, became wildly popular in high echelons of society. The pieces had straight lines, and used symbols as decoration.
In my home, we enjoy a pretty heirloom chair that once belonged to my husband's grandmother, who was born in 1903. The chair is old, but not Egyptian. It's been featured in many humble portraits taken in the Karsten home.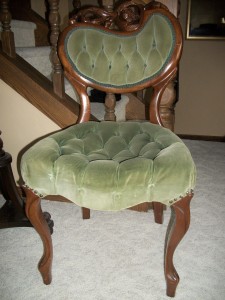 It has a problem, however, in that the green velvet-covered, thick-looking seat's stuffing is completely shot. It's:
Lovely to look at,
Delightful to touch,
But if you sit,
You'll find it's not much.
I happened upon a recent guest stroking this chair's highly-polished carved wooden back. The reverent  look on her face (she didn't know the seat is corrupt) reminded me of a caution in Matthew 6:19, which says "Do not lay up for yourselves treasures on earth, where moth and rust destroy and where thieves break in and steal." The Egyptian furniture trend which is long gone and my own pretty chair prove the Truth of the verse all too well.
Originally posted 2012-10-31 10:00:00.