But they that wait upon the Lord shall renew their strength; they shall mount up with wings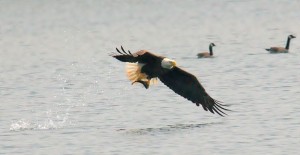 as eagles; they shall run, and not be weary; and they shall walk and not faint. Isaiah 40:31
I discussed this verse last week in the women's Bible study class I teach at our church. It's a rather commonly quoted passages of Scripture. While not necessarily as popular as John 3:16, I'd wager many a Christian has heard sermons on it before and had others quote it to them a time or two.
In some regards, the verse is probably overly familiar. We hear it so often we forget what it really means.
It's a natural, human reaction to try rushing God rather than waiting for Him. The story of Sarah, Abraham, and Hagar (found in Genesis 16) illustrates this point perfectly. Sarah and Abraham had an unconditional promise that God was going to make a great nation from their offspring. At the same time, they'd been waiting for God to fulfill this promise for over twenty-five years.
And as you can imagine, after twenty-five years of leaving home and wandering around the desert,  Sarah got a little impatient. Instead of waiting on God, she decided to help move God along. So she gave Abraham one of her maids to take as a wife.
**Note this practice was common and acceptable in Sarah and Abraham's day.
Now I have to admit that after twenty-five years of wandering around a desert trusting God, I'd be getting rather impatient for God to give me a son. Would I have behaved as Sarah did? Perhaps yes and perhaps no. I've never been in that situation. But I do know Sarah's story illustrates this:
Waiting on God might be hard, but getting ahead of God will be disastrous.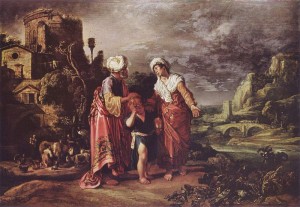 Indeed, Sarah reaped a slew of negative consequences from her actions. Hagar got pregnant with Abraham's child and lorded it over Sarah. Sarah then felt contempt and bitterness for Hagar and demoted Hagar back to her position as a maid. Rather than suffer such degradation at Sarah's hand, Hagar ran away, and God intervened to save Hagar and her unborn child's lives.
So as we look at the story of Sarah and Abraham and Hagar, and at the principles taught in Isaiah 40:31, we can all be reminded to wait on God.
Waiting on God might look different for each one of us, and it certainly looks different throughout the course of history. For example, for an unmarried Regency woman, waiting on God usually meant waiting for a husband that she would meet at any number London social events. For an unmarried woman living today, waiting on God might mean not getting married at all, or meeting your husband somewhere other than a London social event.
But the principle is still the same. Take a deep breath and WAIT ON GOD. You'll end up with a much happier, easier life if you follow God rather than get ahead of Him.
** Both photos taken from Wiki Commons
Originally posted 2012-08-24 10:00:00.