Ah, titles. They are one of the most fascinating things about the Regency period, I think. It's no secret that people are enamored with the idea of royalty. (Have you seen the one year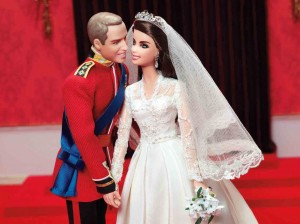 anniversary dolls of William and Kate?) The fascination with titles and everything that comes with them is part of the draw of the Regency time period. Right before the industrial revolution and the rise of the middle class, the power and prestige that came from sheer luck of birth was still riding high at the beginning of the 19th century.
Kristi here, with a look at how all that power and prestige makes its way down the family tree. On the surface, inheritance is simple. But the intricacies can get very complex.
I read a completely made up statistic once that more fictional English dukes have been created than have ever actually existed. If you type "duke" into Barnes and Noble's search bar you won't find that hard to believe.
But, just for kicks, I'm going to make up another one to use in this example. Introducing the Duke of Handsomeshire (because, really, what good is a fictional duke if he doesn't look good?)
The Creation of the Duke of Handsomeshire
Sometime back in history, the king thought someone deserved great honor and bestowed upon him the title of Duke of Handsomeshire. He was given some land and possibly some money and a whole bunch of other favors because the king liked him.
Now the First Duke of Handsomeshire  feels very responsible for this new title. He gets himself a wife and sets about having an heir and a spare or two. Or five or six because children died way too often back then. We'll call his sons Adam, Benjamin, Charles, and Edward. (D was Deborah and she's a girl, so sadly means nothing in this article.)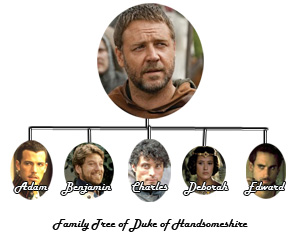 The Progression of the Dukedom
The title, property, money, and all of that other fun stuff pass down to son number one, Adam. He becomes the second Duke of Handsomeshire. All the other kids? Well, good luck to them. If Adam is feeling generous he might help the others, but really he doesn't have to. All Adam has to do is manage the estate, find him a wife, and make lots of little heirs of his own.
This  continues down the line for several generations. As long as the Duke of Handsomeshire has sons, there's little question of who inherits. However, years go by and the sixth Duke of Handsomeshire is blessed with lovely, talented, beautiful daughters. Who can't inherit squat as far as the title is concerned.
By now the family tree of the original duke looks like this: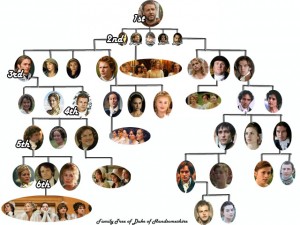 The Rerouting of the Direct Line
Once the sixth Duke of Handsomeshire dies, the powers that be start tracing the tree backward. Since women can't inherit, they can immediately be ignored.
Hopefully the sixth duke had a younger brother. If that younger brother is dead, then hopefully the younger brother had little boys of his own. But, alas, it's a generation of skirts, so up the tree we go.
If, as I have made the case here, there aren't a whole lot of male progeny, they have to trace quite a good distance back to keep it in the direct male line of the original title holder. In this case we have to go all the way back to the 1st duke's fourth son, Edward. Benjamin had lots of daughters and Charles sadly died without any offspring. You can make his death as tragic as you like. It really has no bearing on the inheritancy.
What you end up with is this: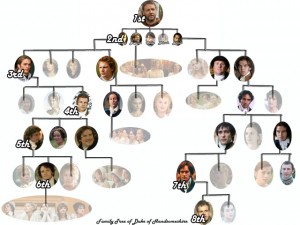 The 8th duke isn't going to inherit until his father dies, of course. He's just labeled to show the continuation of the line.
The Ramifications of the New Line
Now over six generations, the family is going to spread out. With no tie to the title or the family money, descendents of younger sons have had to make their own way in life. It's feasible that somewhere along the line these men moved. Possibly even out of the country. Not expecting to inherit, and indeed possibly not even knowing there was a duke back in  branches of the family tree, they've gone about their lives.
Suddenly a guy shows up with a complicated diagram and a whole lot of legal papers stating you've inherited something from your sixth cousin. And this is how you could end up with an American (or French or German) Duke of Handsomeshire that actually knows how to farm or run a business or some other such un-aristocratic skill.
The Case of No Male Descendants
There are, of course, exceptions to every rule. When a peerage was made, there could be provisions set that allowed certain titles to descend through the female line. Probably the most famous exception was the Duke of Marlborough. His family looked like this:
But neither of the lads in the picture survived, leaving him with only daughters. This meant that the brand new title had nowhere to go. So provision was made for the title to pass through the female line down to the next male heir.
Knowing this, it now makes a lot more sense why so many second and third cousins could be found hanging around and reminding everyone of their connection to the peerage. One never knew when one might inherit.
Learn More
If you're looking for more information about the details of exceptions to this male-inheritance rule as well as pesky things such as entails and what happened to a title if there were no male sixth cousins hanging around, you can read this article from ChristianRegency.com.
Now just for fun, go trace your family tree and see how far you are away from a title. Unless you're female.  Then you can see how many people would have to die for your brother or husband to inherit. Should only take you a couple dozen years or so.
Originally posted 2012-05-21 10:00:00.