Earlier this month, Susan shared with us some sobering statistics about death during England's Regency period. According to her May 4th post, the average life expectancy in England in the early 1800s was about 40 years, and the infant mortality rate was around 15%.
The people of the Regency had very specific "rules" on how to deal with and display grief over losing a loved one. Though not as strict as the mourning customs that would later develop in the Victorian period, Regency mourning conventions were complex. Let's take a look at  some of the key characteristics of mourning during the Regency.
Length of the Mourning Period
During the Regency, a person would "go into mourning" when they lost a loved one. The length of time they would mourn was determined by their relationship to the deceased. Typically, the more distant the relative, the shorter the mourning period, and eventually socially acceptable guidelines emerged. When you consider the number of relatives a person could have, it was not uncommon to be in mourning for years!
Below are some general guidelines for mourning durations in the Regency.
(NOTE: Mourning period lengths could vary slightly by social class or region. The lengths indicated below were guidelines, but ultimately, the length of time a person chose to mourn was a personal decision.)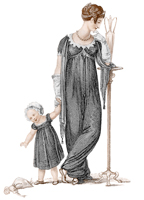 Husband or wife:  1 year
Son or daughter:  6 months – 1 year  (the older the child, the longer the mourning period)
Parent or Parent-In-Law:  6 months–1 year
Grandparent:  6 months
Brother or Sister:  3-6 months
Aunt or Uncle:  3 months
First Cousin:  2 -6 weeks
Second Cousin:  1 week

Mourning Dresses
Individuals in mourning were expected to set themselves apart from society. In the "see-and-be-seen" society of the Regency, the most visible way to accomplish this was through one's clothing. With the rise of popularity of fashion journals/magazines, mourning dresses became more elaborate and specific. These gowns could be very expensive, so it was not uncommon for women of modest means to dye or alter older dresses to use for mourning. Over time, the mass production of dark fabric made it more readily available and more affordable, and the rising middle class had the means to purchase it. As a result, mourning gowns became a "must" in a woman's wardrobe.
During the Regency, there were two general stages of mourning:  full mourning and half mourning.
A Woman's Full Mourning Attire: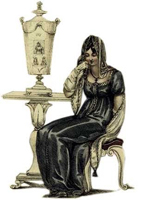 Full mourning (or deep mourning) was the first stage.  During this stage, a woman would dress in all black – typically bombazine (heavier silk), crepe (lightweight silk treated to have no sheen), sarsnet, gossamer, and velvet – and she would accessorize with a mourning bonnet, black shawl, black gloves, widow's cap, and/or a crepe veil. The only acceptable jewelry for full mourning was that of jet, black enamel, black glass, or amber. Embellishments, such as buckles or buttons, needed to be modest. While in full mourning, a woman was expected to abstain from social activities.
A Woman's Half Mourning Attire: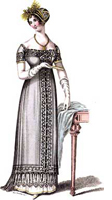 About half-way through the mourning process, a mourner would shift to the next stage: half mourning. The mourner could now wear select somber hues, including violet, mauve, brown, gray, or lavender. Jewelry made of pearls, coral, and amethysts could also be worn. Wearing rings, brooches, or pendants made from the deceased hair was common during this stage.  While in half mourning, a woman could gradually resume her social activities.
A Man's Mourning Attire
The expectations regarding a man's mourning attire were much simpler. Since men wore black as part of their regular wardrobe, mourning clothes were not a dramatic transformation. While mourning, men would usually wear a black jacket.  Additionally, some men would wear a black crepe armband, black cravat and/or shirt, black gloves, or a black ornament or band on their hat.
Mourning a Spouse
The mourning period for a widow or widower was traditionally one year plus one day.
Rules for the Mourning Widow:
The strictest, most intense form of mourning during the Regency was that of a widow mourning her husband. Social custom forbade a widow to marry within the year following her husband's death. The main reason for this was to ensure the woman was not with child, which would put the identity of the child's father in question. During full mourning, it was unacceptable for a widow to attend social functions, and her social interactions were limited to receiving calls.
Rules for the Mourning Widower:
The expectations on a mourning widower were much different than those for a widow. While a widow was expected to go into seclusion for an extended period of time, widowers were not expected to go into seclusion for more than a couple of weeks because of his business responsibilities. Additionally, a widower was permitted to remarry right away, especially if he had young children to care for.
In parting, I leave you with a few more mourning facts:
If a young woman was in mourning and was about to get married, she would not wear black to her wedding. It was considered poor taste for a new bride to be in mourning, although it would be acceptable for her to wear darker, more somber colors.
It would not be uncommon for a wealthy family to insist that their servants wear mourning clothes to show respect for a departed member of the family.
This post merely scratches the surface of mourning during the Regency. The process was complex, but it was one that helped define the era and lay the groundwork for future customs.
Until next time,
Sarah
Originally posted 2012-05-16 10:00:00.