Easter is right around the corner.  In just over a week, women will don their finest dresses, girls will wear Easter bonnets, and children will color and hunt Easter eggs.  It is a special time to celebrate the resurrection of Jesus with family and friends.
During the regency period, the time from Easter Sunday to Ascension Sunday was known as the Easter Season (or sometimes the Easter Holiday).  During these weeks, it was common for people to travel to visit with family.  Many of the traditions they participated in we still enjoy today.
EASTER BONNETS AND DRESSES
E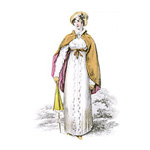 aster has long been considered the unofficial start to spring.  After the dark, heavy winter fabrics and reverent clothes worn during Lent, Regency ladies welcomed in the Easter Season with light colored gowns and spring bonnets decorated with ribbons, bows, and flowers. Since the Roman times, wearing something new for Easter had been considered good luck.
HOT CROSS BUNS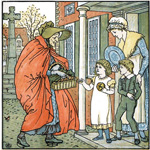 Eating hot cross buns on Good Friday is a longstanding English tradition.  A hot cross bun is made from yeast dough and contains sugar, milk, flour, butter, eggs, and a variety of spices. Today, icing is often used to create the cross on hot cross buns, but during the regency it was most likely formed with a knife. The idea of consuming and bread in as a religious ceremony is well known, and some even say that the tradition is tied to the blessing that Jesus gave a woman who offered him bread while he was carrying the cross to Calvary. During the days leading up to Good Friday, the streets would be alive with vendors selling hot cross buns. In fact, this practice is the basis for the nursery rhyme: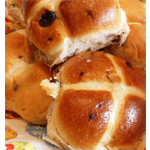 Hot cross buns!
 Hot cross buns!

One ha' penny, two ha' penny, Hot cross buns!

If you have no daughters,
Give them to your sons

One ha' penny,
two ha' penny, Hot Cross Buns! 
According to legend, Good Friday hot cross buns never molded, and it was considered good luck to hang a bun in your home.  Sometimes, these buns were kept until the following Easter as a trinket.
DYED EGGS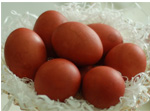 During Lent, it was common for Christians to abstain from eating eggs.  In order to preserve them and not let them go to waste, the eggs would be boiled, which would make them last until Lent was over. Onion skins were used to dye the eggs red in remembrance of the blood Christ shed on the cross.
Happy Easter!
Originally posted 2012-03-26 14:00:00.