Vanessa here,
2015 has now given away to a new year. I just wanted to take a moment to reflect.  Here is what 2015 has meant:
27,000 visits to this blog.
68,000 unique visitors to ChristianRegency.com
181,000 visits to ChristianRegency.com
1.9 Million hits to ChristianRegency.com
This is exciting. It means the content that has been built up over the years has meaning to a great many.
For me personally 2015 was a year of freedom. I embraced being a hybrid author fully, releasing books that traditional publishing felt were too much of a niche, being diverse in foils, faces, and faith. It has been a great learning experience and very fulfilling reaching readers, giving them something delightfully different. So here are my numbers.
1 full novel, Unmasked Heart
1 serialized novel (4 episodes) The Bargain
Released 2 audio books: Unmasked Heart and Swept Away
36,000 copies of my books are now parked on folks Kindles and iPads around the world.
So what is on tap for 2016? Expectation.
1 Chronicles 4:10

And Jabez called on the God of Israel, saying, "Oh that Thou wouldest bless me indeed and enlarge my borders, and that Thine hand might be with me and that Thou wouldest keep me from evil, that it may not grieve me!" And God granted him that which he requested.
More novels. More audiobooks. More research. More connecting with peers and readers. More fun.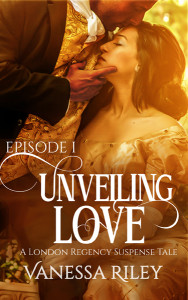 I leave with you two nuggets. If you have never tried one of my Novels, Swept Away will be free 1/2/2016 at Amazon.  And if you are looking for something different, my latest serialized novel which launched today: married hero and heroine steeped in suspense in Regency London, Unveiling Love.
So I wish you all a happy and blessed New Year.
Originally posted 2016-01-01 07:55:59.