Kristi here. As long as people have been having children, there has been the question of what to do with them if the parents die before the child can care for themselves. In Regency England that care depended greatly on who your parents had been.
Orphanages were frequently reserved for the poor or poorly connected. Those with higher connections and particularly those with money and property became wards, but the assignment of the guardian was not always simple.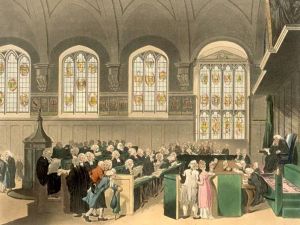 The father was the only person able to assign a guardian for his children should he die too early. If his will didn't state who it was to be, the choice fell to the Court of Chancery. The court could also in extreme cases overrule the father's choice of guardian.
If the child had property and money the court cared a great deal more than if the child didn't. If there was no material wealth, then the court didn't get very involved unless someone made a ruckus. If no one sued over the child, then the court was likely to leave them with whoever wanted to care for the child, such as a stepfather who had no legal right to his deceased wife's children from a previous marriage.
The appointed guardian was usually the most closely related person that could not inherit from the child. The court was very concerned about the child being coerced out of his inheritance by a guardian or through marriage. If the child was a minor and the court did not approve of the marriage, it was considered non-existent, particularly if the child were male.
Adoption as we know it today did not exist during the Regency time period, though it was not unheard of for a ward to be treated as a son or daughter and even inherit certain things from their guardian, unless of course there was a title involved. Titles had to move along bloodlines.
After the age of 14 the child could have a say in who their guardian was,  but many children didn't know this and felt they had to go along with whoever the court appointed. There were also instances where someone might have been appointed the guardian but someone else actually cared for the child (such as a brother or sister). This wasn't an issue unless legal things such as permission to marry were involved.
Since the Court of Chancery was exceptionally bogged down and notoriously slow about things, they tended to ignore whatever didn't involve titles, property, or angry people. As long as nothing untoward was happening and no one objected, guardianship of well-to-do but penniless people could be decided by society.
A working or middle class family might take in a neighbor's child out of love or a wish for another pair of hands. There was no legal ramifications for this unless someone sued.
This lack of oversight comes into play my novella coming out in July. A Lady of Esteem is a complete story – no cliffhangers! – offered free as a preview to the upcoming Hawthorne House series. If you're on Goodreads, hop over here and add the book to your to-read shelf. If 250 people add it, I'll do an early release of Chapter One on my webpage.
*The assignment of wards and guardians and trustees could get very complicated. This is a very high level look at how guardianship was handled. For more information on the Court of Chancery, there are several books available through Google books that go into the formation and responsibilities of this particular court. Here are some other websites that go into greater detail about the types of guardians: Regency Researcher and Word Wenches
Originally posted 2015-06-01 01:00:00.