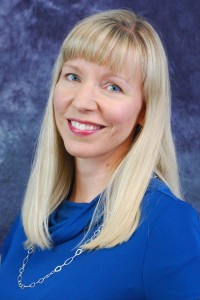 Kristi here with special guest Julie Klassen!
Julie is the author five fabulous historical Regency  novels. Two of them have been awarded the prestigious Christy award for Inpirational fiction. She has also been a finalist for Romance Writers of America's RITA award. We're honored to have her stopping by Regency Reflections today!
KAH: Why did you choose to write stories in the Regency time period? 
JK: I've long been enamored with British literature in general, having read The Secret Garden and Jane Eyre at a young age. But it wasn't until later, when I had seen the Pride & Prejudice mini-series and read all of Jane Austen's books, that I chose the Regency era in particular for the setting of my first historical novel. I jokingly say it's all Mr. Darcy's fault!
KAH: I think many of us blame Mr. Darcy! What is your favorite thing about the Regency?
JK: I love the chivalry of the Regency era, the men in tall boots and ladies in beautiful gowns, the balls and manners and restrained attraction. It was a romantic time–at least if you had money! And, compared to some other time periods, I think it can be a little easier and more natural to include Christian content in a Regency novel, when things like prayers, attending services, and having the vicar over to dine were commonplace. (Remember, Jane Austen herself was a clergyman's daughter. :))
KAH: Which of your books was the most fun to write?
JK: For me, writing books is a lot of hard work. The fun doesn't come later until when the book is finally finished and people are enjoying it. The icing on the cake? Listening to the audio version. The audio book publishers usually hire talented British actors who perform the characters so distinctly and really bring the book to life. I dream up places to drive just to listen further! I will say The Apothecary's Daughter and The Maid of Fairbourne Hall were probably the most fun to research–since I was able to travel to England to do so.
KAH: What is the most interesting historical factoid you've come across when researching your novels?
JK: It's not so much any single big discovery, but more the dozens of little historical details I find to bring the stories to life. For me, the most exciting research takes place when I've actually been able to travel to England and see the settings I plan to use in my books. For example, The Maid of Fairbourne Hall is about a young lady who finds herself working in service. To research this novel, I read many books about servant life–the sources of most of the epigraphs (quotes) at the beginning of each chapter. My husband and I also had the privilege of touring several old country estates and town houses in England when we traveled there last May. There's something about walking down those dim stairs and entering the "belowstairs" world (massive kitchens, the servants' hall, huge water cans that had to be carried up many flights of stairs, the footman's livery, butler's pantry, housekeeper's parlor, sculleries, etc.) that really helped me envision my characters in the scenes I was writing. Hopefully, this allows readers to visualize the scenes as well. I've posted several photos of this research trip on my web site if you would like to see them (www.julieklassen.com).
KAH: What is your favorite Regency set book? movie?
JK: I have enjoyed all of Jane Austen's books (which were published in the Regency era, though written somewhat earlier) as well as the movies based on them. Persuasion and Pride and Prejudice are probably my favorites. One of the most beautiful movies I've seen was Bright Star, both in terms of Regency costumes and the beauty of the film itself.
KAH: Tell us about your most recent release.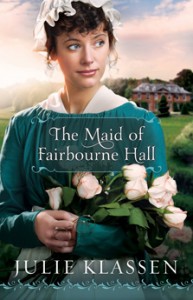 JK: I've been looking forward to writing a book like this for some time, first, because my novels are set in the Regency era when live-in servants were common. And second, because I've really enjoy programs like Upstairs-Downstairs, and more recently, Downton Abbey, which portray the life of servants as well as the people they serve. So, I'm very happy to have written my own "belowstairs" novel and am thrilled so many people seem to be enjoying it.
The Maid of Fairbourne Hall is about a well-born lady, Margaret Macy, who disguises herself as a housemaid to avoid marriage to a dishonorable man. But she never planned on actually working as a servant. And certainly not in the home of two former suitors! As Margaret fumbles through the first real work of her life, she is soon entangled in intrigues both belowstairs and above.
I hope you will enjoy the book. Thanks for having me here!
KAH: Thanks for coming!
You can find Julie at her website, www.julieklassen.com. Her books are available from Bethany House,  Barnes and Noble, Amazon, Books A Million, Christian Book Distributors, and your local bookstore!
Originally posted 2012-03-28 10:00:00.