Hi, readers! Susan here with another blast from the past — 1987 to be exact. I expect many of you inspirational Regency-lovers are like me…you loved the older, clean Regencies that were so readily available a few decades ago, published by Signet (my faves), Zebra and the like.
In fact, my efforts toward a fiction-writing career began with a desire to try my hand at writing one of these thrilling, yet clean, romances…with a dash or more of the Christian faith included as a character developing element…sometimes even as a plot twist or a conflict-causing, stake-raising factor.
So today, I am bringing you a review of an old favorite, Mary Jo Putney's "The Diabolical Baron."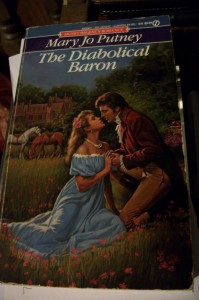 Don't let the title throw you, the book is a charming tale of true love, the twists and turns and the happily ever after. With two attractive suitors trying to lay claim to her heart and a father insisting she marry for a fortune, she has deep waters to navigate all the while trying to protect her beloved sister.
If you can find this title, I believe it might be one of your favorites too — though it is not a true inspirational romance. My hopes are that the Regency genre will grow in popularity again, with Christian writers bringing it to the fore.