A Classic Regency Review by Laurie Alice Eakes
The first Christian Regency romance I read is A Light Among Shadows by Tamela  Hancock Murray. She is an agent now, but started out as an author and a good one at that.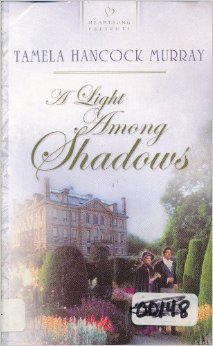 At first read of this novel, I couldn't figure out why the author chose the title A Light among Shadows. A few minutes' reflection on the theme of the story was all I needed to realize that the title is thoroughly appropriate.
The obvious reference to light in this love story is the spiritual light of the heroine and hero's faith in God. Even more so, however, Abigail, the classic Regency heroine with a head full of romantic dreams that conflict with her parents' wishes for her, carries several torches that do not all relate to one another.
First, Abigail carries a romantic torch for Henry Hanover, a neighbor. He is her knight in shining armor who, in her dreams, will carry her away from a father besotted with his young wife, and that young wife, who, if not exactly a wicked stepmother, is certainly an annoying one. Despite seeming to agree to an elopement with Abigail, Henry doesn't show up at the rendezvous, nearly dowsing Abigail's life torch, when she waits in vain in the rain and becomes deathly ill.
Abigail, waiting cold and frightened in the darkness for a man the reader can guess isn't going to show up, feels the shadows gathering around her. How can she continue to shine in her social and spiritual life if she is forced to marry the man her parents have arranged for her to wed, a dissolute gamester with a good name and fortune?
But Tedric, the erstwhile fiancée's brother, rescues Abigail from the shadows, and her light emerges brighter than ever, so bright it spills over onto all with whom this heroine comes in contact. Maids, her self-seeking stepmother and, above all, Tedric find shadows banished from their lives under Abigail's delightful blend of uppity gentry with charming innocence. Experiencing Abigail from her girlish entries in her diary to the final romantic revelations with the hero, gives a whole new meaning to "light" reading.