In researching my current WIP (Work-in-Progress) I needed to find a botanical garden for my hero and heroine to tour. I had the Chelsea PhysicGarden all lined up.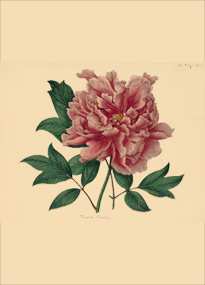 Chelsea at the time of the regency was an outlying suburb of London, very close to Mayfair. In fact all the land around Chelsea and Brompton as you were leaving London was dedicated to commercial nurseries since the soil was quite fertile. Many of these were walled gardens. Chelsea Physic (meaning healing) Garden was a renowned herbal garden right by the Thames.
However, I found out that the garden was off limits to women until later in the 19th century!
I had one other choice, although it was farther from London: Kew Botanical Gardens, which is about ten miles southwest of the center of London.
The late Georgian period (last half of the 18th century) was a great age for botany in England and other parts of Europe. England was ahead of much of Europe because of its great colonizing efforts and intrepid navy and merchant ships sailing the seas. Often these ships carried botanists aboard who collected all kinds of seeds and plants to bring back home. (Remember the ship's surgeon, Stephen Maturin, in the movie Master and Commander?)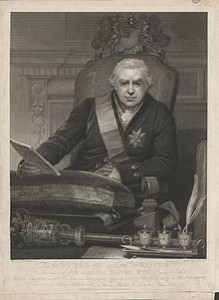 One of the greatest botanists of the time, Sir Joseph Banks traveled with Captain Cook on his first voyage and brought back many specimens from the South Seas from this trip. In the 1790s, King George III (before going mad) was very interested in agriculture (hence his nickname "Farmer George"). It wasn't just an idle hobby. He hoped to use the new plant discoveries in the different parts of the British empire to improve the agriculture economy of the British empire. One successful example of this was the importation of the recently discovered breadfruit from the Pacific to the West Indies (Jamaica) as a cheap, starchy foodstuff to feed slaves.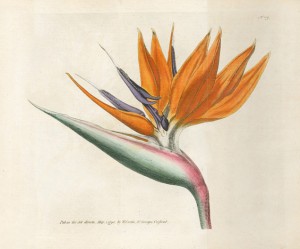 From the  early 1780s, Banks became an adviser to the king for Kew Gardens. Banks was responsible for making it into a world class botanical garden. He sent collectors on various ships going overseas specifically to bring back seeds or plants from every continent on the globe. He is credited with bringing back himself or through these collectors the peony, hydrangea, mimosa, acacia, eucalyptus, lotus flower, tiger lily, and bird of paradise.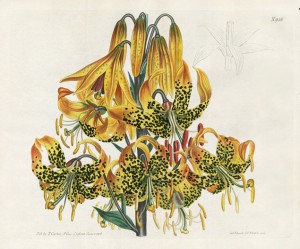 In 1789, a seminal work of botany Hortus Kewensis was published by one of the curators of Kew Gardens. It listed all the plants cultivated in the Kew Botanical Gardens up to that point, which was more than 5,000! Another important thing about both the catalog and the garden was that they used the relatively new plant classification system called the Linnaean System developed by Swedish botanist and zoologist Carl Linnaeus, the father of taxonomy, the naming of species. It is the system we're familiar with today of giving plants a Latin name and grouping them in descending orders of family, genus, species, etc.
This just scratches the surface of the field of botany during the time of the regency. For more reading on the history of Kew Gardens or the science of botany, here are a few sources:
http://Hortus Kewensis, or a Catalogue of the Plants Cultivated in the Royal Botanic Garden at Kew by William Aiton
http://The Royal Botanic Gardens Kew: The Historical and Descriptive