About Vanessa Riley
I love History, Romance, the Regency, Food, Family, Faith and Friends.
See the Latest
CONTESTS
2019 Contest(s):
To Enter Vanessa Riley's #MyBaron Contest:
1. You need to be one of my newsletter subscribers and follow me on Instagram.

https://www.vanessariley.com/subscribe.html
https://www.instagram.com/vanessarileyauthor/

2. Post to my FB Author Page and Instagram pictures that remind you or your dream baron. Hashtag them with #MyBaron #BewilderedBride

You get extra points for shares and creativity.
The winners: I will choose 3 winners. One from this page, one from my IG followers, one from my newsletter followers.

Each of my grand winners (US & UK) will win $25 Amazon Cards, A cologne sampler from Truefitt & Hill.

For my international fans, you are eligible to enter but the cologne samplers won't be shipped so we'll up the gift card to $40 (USD) Amazon Card.

Winners will be announced on Release Eve FB Live Party, Aug. 11th. Good luck.

---
---
2018 Contest(s):
The Butterfly Christmas Contest for the Release of The Butterfly Bride. Win an Early Christmas.
| | |
| --- | --- |
| | Win this prize bundle: |
Series: Advertisements for Love
THE BUTTERFLY BRIDE
Frederica Burghley wants to be married by Yuletide. Or else her father will set her up with one of his friends. The bonbon-loving illegitimate daughter of the duke wants to choose her own husband. Advertising in the newspaper seems like the way to go. But a sinister response, with threats against her life, leads her to enlist the help of her very handsome, dear friend Jasper Fitzwilliam, Lord Hartwell.
A father and widower, Jasper is not only tasked with keeping Frederica safe but also with helping his vibrant friend choose a suitable husband. The more he tries to keep the ever-surprising woman alive and find her a good match, the more Jasper realizes he cares for her. The two friends risk their lives for each other, so they should be able to risk their feelings for a chance at a deep and true love together. But he's not looking for marriage and she's not looking for convenience.
What do you win in the Butterfly Christmas Contest?
For every share of the anything The Butterfly Bride, you get a chance to win the Mega Christmas Prize. I want to reward a dedicated fan with an early Christmas.
I want you to bling in public with a Coach Purse.
I want you to curl up on a Plush Throw Blanket and drink Gourmet Tea and Coffee from the perfect Glass Mug.
I want you to eat the Best Dove Chocolates while you read a selection of Signed Books:
And for your reading pleasure:
Beverly Jenkins: Something Like Love (Vanessa's Personal Favorite), Forbidden, Destiny's Embrace.
Kristan Higgins: Good Luck With That
Katherine Ashe: The Prince
Vanessa Riley: The Victorian Christmas Bride, The Bittersweet Bride, The Bashful Bride, & The Butterfly Bride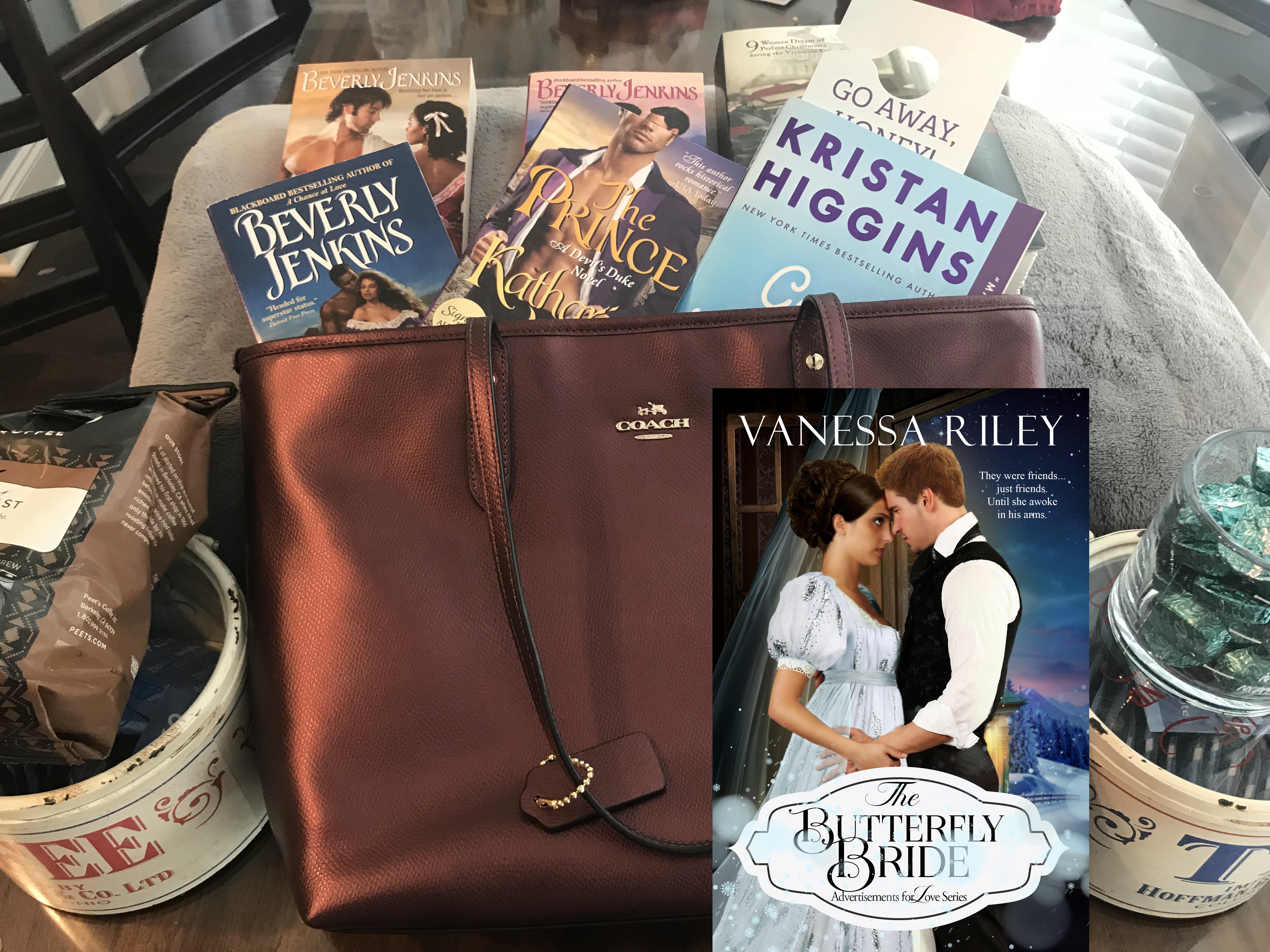 To Enter: You must tag me in a share of this contest or a cover of The Butterfly Bride or a picture of you with one of my books. You can get an extra entry if you tag The Butterfly Bride and something over the top, like a picture of you and me at a signing. Get creative. Enter as many times as you want. Share on Twitter, Facebook, or Instagram. Remember you have to tag me and #ButterflyBride in your share to be counted. Tag 2 Friends and get an extra entry from that share.
For international fans, if you win, you will receive a signed copy of The Butterfly Bride and $50 USD Amazon gift certificate. The mega prize is really heavy, too heavy for shipping. :(
Everyone enter as many times as you want until October 26, 2018. The winner will be announced on October 28, 2018. I'd really love some pics of you with The Butterfly Bride.
This contest is not affliated with FB, TW, Instagram. This is an independent contest. Oh, there will be an extra bonus prize for the person who shares the most. :)
2017 Contest(s)
Various Giveaways.
2016 Contest(s):
In celebration of my joy of reading great historical romances, I will be giving away signed paperbacks of my favorite authors. This is been a tough year. So I thank Beverly Jenkins for her support and for writing great books to escape inside the pages.
If you have subscribed to my mailing lists, you are in the contest. Tell people and get more entries. Just tag me on social media - so I can keep track. This contest closes at 11:59 November 20, 2016. Winner will be announced November 21, 2016.
So if you have not subscribed click this link: http://eepurl.com/cjN0pc
---
Previous Contests
Win a $25 Visa Card
I'm celebrating my website facelift. Join the fun ans win.
Here's the link to my latest contest.
Special Radio and Blog Tour Contest:
Enter the contest.
Win a $20 Visa Card and a Copy of Madeline's Protector
If you like my facebook page: http://www.facebook.com/ChristianRegency.com and/or enter your email address here, you'll be entered for a $20 Visa Gift Card and an ebook copy of Madeline's Protector. The more you do. The more entries you will receive. Enter the contest.
———————————————————————————————–
Madeline's Protector Nook Giveaway :April 26-May 5, 2013)
Win a Nook and Other Prizes At RegencyReflections.com Celebrate Madeline's Protector
We are celebrating the release of Madeline's Protector at RegencyReflections.com. Join us and learn more. Each day there will be daily prizes based on comments.
Fri, April 26—$10 Starbuck's gift card
Mon, April 29–$iTune card
Wed, May 1–$10 Amazon Gift Certificate
Fri, May 3—A paperback of Madeline's Protector.
On Monday the 6th the Grand Prize Winner a fabulous Nook Reader and an eCopy of Madelines' Protector will be announced.