A review by Laurie Alice Eakes
Joan Smith has always been one of my favorite traditional Regency authors. She has the wit and clever plot turns of Georgette Heyer, with a more modern sensibility of character introspection so often absent from Heyer's stories. The Savage Lord Griffin is one of my personal favorites so much because of the character growth and touching scenes, without being maudlin or sappy, that come about through these characters becoming emotional adults.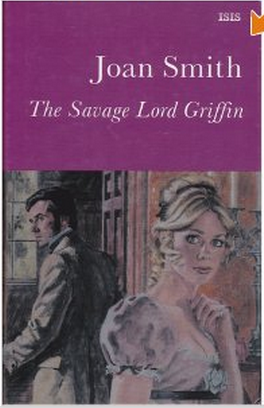 Lord James Griffin disappeared into the wilderness of Brazil five years earlier, leaving his fiancée behind. Now he is back with his white monkey and gold earring and expects his lady love to have waited for him.
Of course she did not. She is engaged to a duke who is the opposite of Griffin in about every way from strength of personality, to their political views. Myra finds herself in a position to choose between the two and loving the attention.
Meanwhile, her younger sister Alice has grown up and discovers that her childhood tendre for Griffin is full-blown love. Yet she still promises to help him win Myra back.
To say more would spoil the story that is wholly character-driven by characters you in turns want to strangle and embrace for their humanness. Joan Smith is an excellent storyteller. At times, you know exactly what sort of a scene is coming up, but you wait in anticipation rather than rolling your eyes and sigh, "I knew that was coming." You want it to come to see how Smith will raise her characters to the next level of understanding and finding the true direction of their hearts.